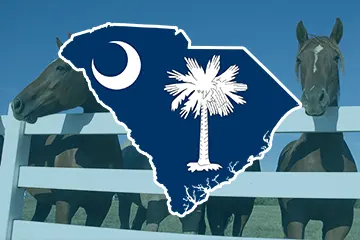 On April 18, South Carolina's lawmakers voted down a legislative effort seeking to impose a tax on horse feed to support the state's equine sector. The state Senate is yet to decide the future of another measure that would legalize and tax online horse race wagering if approved. Under the legislation, the money collected in tax revenues from horse race wagering would be distributed among people in the equine industry.
Lawmakers Vote Against Legislation Seeking to Impose a Tax on Horse Feed
State lawmakers expressed their desire to help South Carolina's declining equine industry but did not approve one of the measures that would impose a tax on horse feed. Under the proposal, a fee of $2 would be imposed on horse feed per ton. The money collected would go to fund grants for the state's equine industry. A special board consisting of 11 members would be responsible for distributing the funds among owners of equine centers.
The state's Revenue and Fiscal Affairs Office estimated that the new tax would bring approximately $151,000 for such grants. With three votes against and only one in favor, the legislation failed in the House due to lawmakers' concern that the fee may be applied not only to stock feed for horses but also to generic feed for all animals.
Several lawmakers said that the Legislature should allocate money to support the equine industry instead of imposing a fee on horse feed or legalizing horse race wagering. Rep. Dennis Moss, the bill's sponsor, shared that he is frustrated by lawmakers' decision to vote against the measure that would support the equine industry.
What Happened with the Bill That Would Legalize Horse Race Betting?
The other legislative effort that aims to revive the equine industry by legalizing horse race betting is yet to be discussed in the Senate. People in the equine industry have urged lawmakers to pass the bill as a way to bring their industry to life without directly using taxpayers' money.
Next to legalizing horse race wagering, the bill seeks to create an appointed commission that would issue licenses to three online operators who will be authorized to take bets on horse races. Under the proposal, licensees would pay the commission a minimum of 10% of the revenue they generate from South Carolinians' wagers every year.
Earlier in April, the House of Representatives approved the legislation by a thin 55-44 vote. The bill was favored by 27 Democrats and 27 Republicans and opposed by 43 Republicans and a conservative Democrat. Even if approved, the governor has promised to veto the measure. Social conservatives also opposed the measure.