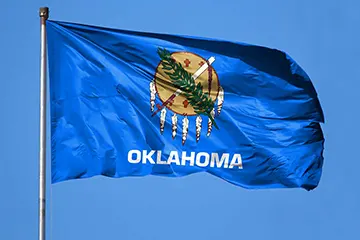 A bill seeking to allow mobile and in-person sports betting in Oklahoma failed to advance through a Senate committee by Friday's deadline, media agency KOCO 5 reported. Rep. Ken Luttrell, the author of the bill, explained that the Senate wanted to win more time for discussions between the tribes and the governor. The bill will be brought to the table again during the next session, which will take place in February 2024.
What is the Objective of the Bill?
In February, Rep. Ken Luttrell introduced House Bill 1027 which would allow tribes to offer retail and digital sports betting in Oklahoma if approved. Besides, the legislation would require the tribes to share revenue with the state, depending on the monthly profit generated by the sportsbook. If the sportsbook's profit is $5 million, it would be required to pay a 4% tax to the state. For a profit of over $5 million made in a month, the tax would be 5%, while sportsbooks that generate a profit of over $10 million would pay a 6% fee.
According to the bill, 88% of the revenue would go to the Education Reform Revolving Fund and only 12% would be assigned to the general revenue fund. The bill would require at least four tribes to recompact for sports betting with the state. In March, the bill passed the House on a 66-26 vote and was sent to the Senate for a first reading. But the bill failed to pass the Senate committee process by the deadline on Friday last week.
Legalizing Sports Betting is a "Win-Win Situation, According to the Bill's Author
The bill's author Ken Luttrell explained that the state should allow the tribes to add sports betting to their existing gaming compacts because the industry would bring approximately $9 million a year to Oklahoma's coffers. He also noted that most states, including New Mexico, Colorado, Kansas, and Arkansas, have already legalized some forms of sports betting.
According to Luttrell, the bill failed to pass the Senate committee because more discussions between the tribes and the governor are needed. But he explained that lawmakers have already realized the economic advantages of legalizing the sports betting industry and the bill has every chance to pass the Senate. He added that the legislative effort also aims to restore the relationship between legislators and tribal authorities.
A poll that took place in February revealed that Oklahoma voters are evenly split on whether sports betting should be legalized in the state. Of all voters, 44% favored the idea, 48% opposed it, and the remaining 8% were undecided. In terms of gender, more men than women embraced the legislative effort.