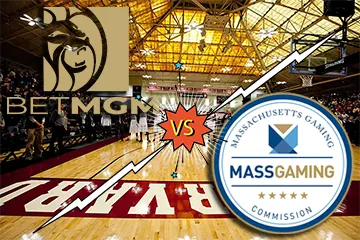 On April 14, the Massachusetts Gaming Commission is to hold two virtual hearings to determine whether they should fine MGM Springfield and Encore Boston Harbor for accepting illegal sports bets on in-state collegiate events, which is against Massachusetts' gambling law unless the teams compete in a tournament with at least four contestants.
BetMGM Springfield Mistakenly Accepted Wagers on a Harvard University Basketball Game
The gambling regulator found out that over $1,200 was wagered on a pair of Harvard University basketball games at MGM Springfield in February. According to Gaming Commission investigators, the company mistakenly listed the sporting event as an out-of-state sporting event. Members of the Gaming Commission will meet at 1:30 pm to discuss the MGM Springfield case.
Massachusetts Gaming Commission's Senior Enforcement Counsel Kathleen Kramer said that the company plans to start a daily audit to ensure that all betting markets offered for the day are legal. Ms. Kramer explained that Harvard was initially added to the "blacklist document" but was listed as being located in Connecticut instead of Cambridge, Massachusetts. But the mistake was promptly corrected by BetMGM – the company that manages MGM Springfield. Kramer also confirmed that BetMGM has ensured that collegiate sports are properly restricted.
Encore Boston Harbor Took Bets on Collegiate Basketball Event in February
Encore Boston Harbor was also caught violating state laws, according to which wagering on collegiate sporting events is illegal. As announced on the Massachusetts Gaming Commission's official website, members of the regulatory authority will convene at 3 pm to review the Encore Boston Harbor case.
In February, the Massachusetts Gaming Commission reported that the company allowed its patrons to place wagers on a Boston College women's basketball game. The reason for the mistake is a bug in a backend system run by GAN – a modern sportsbook technology platform that helps Encore to create a list of events punters can legally wager on.
Massachusetts Gaming Commission Sports Betting Director Bruce Band said that Encore did not specify the amount wagered on the basketball event. He added that this is not the first time Encore accepted illegal sports bets. Mr. Band explained that at the beginning of February, sports fans wagered $70 on another Boston College women's basketball event.
At a hearing held last month, a third-party provider that assists the company in running in-person sports betting at the casino explained that casino officials uploaded the list of approved betting events several days before retail wagering went live in the state on January 31.
But BetMGM Springfield and Encore Boston Harbor are not the only casinos that accepted illegal bets on collegiate sporting events. The Gaming Commission revealed that Plainridge Park Casino also mistakenly accepted wagers on a Merrimack College men's basketball game versus Long Island University. Gaming Commission Chief Enforcement Counsel Heather Hall said that the casino noticed the mistake after seven hours, during which a total of $6,848 was wagered on the event.