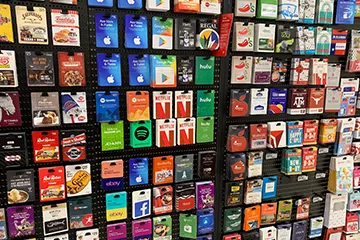 This Monday, the Ohio Casino Control Commission announced that sports fans can use gift cards to add funds to their accounts if they want to. Punters will be able to buy gift cards for mobile betting apps and land-based sportsbooks soon. But when exactly the gift cards will be available to buy is still unclear because they have to be approved by the regulator.
Why Ohio's Gambling Regulator Allows the Use of Gift Cards for Sports Betting?
Sports betting in Ohio is live as of January 2023. In a bid to provide locals with a range of flexible payment methods, the Ohio Casino Control Commission announced that punters have the option to use gift cards to deposit money into their sports betting accounts. Gift cards will be accepted at in-person betting lounges and sports betting apps, providing sports fans with the opportunity to make a deposit safely. But before the gift cards can be sold and advertised, regulators must review and approve them.
Commission spokesperson Jessica Franks said that no betting company had submitted gift cards for approval yet because the gambling regulator recently announced the new rules. Ms. Franks explained that several companies had asked the Commission about the gift cards even before the official launch of sports betting in the state, hence why the gambling watchdog had decided to allow the use of this payment method.
The Ohio Casino Control Commission's decision to allow gift cards for sports betting was mainly prompted by the fact that punters experienced various issues funding their sports betting accounts with credit/debit cards because some banks flag gambling transactions as suspicious and block them. Next to credit/debit cards, Ohioan bettors can use digital wallets and ACH transfers to upload funds to their sports betting accounts.
Last December, Head of Lottery and Gaming for BlackHawk Network Richard Gottlieb told SBS Americas that gift cards would remove issues that Ohioans have encountered with credit card payments since sports betting went live in the state on January 1.
What Standards Sports Betting Gift Cards Must Meet?
But the gift cards must meet several requirements to receive regulators' approval. Every sports gambling gift card must carry a responsible gambling message and a phone number of an organization that provides help for people with gambling problems. Since Ohio's minimum age for sports betting is 21, companies are not allowed to advertise their gift cards or sell them to underage individuals or near college campuses.
Many states that have already regulated sports betting also authorized deposits with gift cards. Gift cards are reliable payment solutions, allowing punters to add funds to their accounts without disclosing their banking credentials. Besides, sportsbooks rarely impose fees on deposits via gift cards and help bettors keep their gambling sessions in check. BetMGM, for example, offers gift cards that can be found in various stores, including Dollar General, 7-Eleven, Speedway and Sheetz, and others.