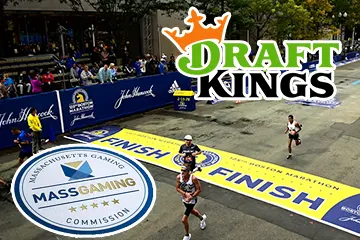 On Thursday afternoon, the Massachusetts Gaming Commission denied a request from the Boston-based sports betting company DraftKings to accept wagers on this year's Boston Marathon, which will take place on April 17. The gambling regulator cited the concerns raised by the organizers of the competition, which include the security of the race and the possibility of influence on the outcome of the contest.
Boston Marathon's Organizers are Against DrafKings' Proposal
On March 31, DraftKings asked the Massachusetts gambling watchdog to allow them to accept bets on the top 20 professional runners in the men's and women's divisions and over/under wagers on winning times. The company sent an email to the gambling regulator, explaining that the Boston Marathon is not a local event anymore as it attracts the attention of runners from different parts of the world.
Before the Thursday meeting, the Boston Athletic Association (BAA) sent an email to the Gaming Commission, asking the regulator to block the sportsbook's attempt to provide lines for the Boston Marathon.
In the email, BAA Chief Marketing Officer Scott Stover explained that the race is to kick off in several days, and the time is not enough to prepare the needed protocols to support DraftKings' proposal and conduct due diligence and analysis to ensure the security of the event. Mr. Stover expressed BAA's concerns about the effect of such a hasty decision on the Boston Marathon.
Besides, Massachusetts legalized sports betting in March 2023, but the state has already fined several sportsbooks for operational breaches. DraftKings explained that its objective is to provide people with the opportunity to wager on one of the biggest sports events without worrying about their safety.
What Do People Think About the Regulator's Decision?
But the four members of the Commission unanimously voted against DraftKings' request. Commissioner Eileen O'Brien referenced the email from the BAA, explaining that the association's arguments are reasonable and DraftKings' proposal to add the Boston Marathon to its list of approved betting events should be denied.
Next to DraftKings' proposal, members of the Gambling Commission looked into the request from a US firm that collaborates with betting companies to approve additional events and leagues for betting. It also became clear that commissioners may soon go into executive session.
Paul Barrett, a former director of the Boston Redevelopment Authority under Mayor Ray Flynn, explained that allowing people to wager on the potential winners will add extra excitement to the event. In an interview with WBZ-TV, Mr. Barrett said that if spectators can wager on the race, they would be more interested in doing research about who is participating in the event. Cancer survivor Jordana Shief-Needle, on the other hand, supported the regulator's decision, explaining that the race should maintain its charitable aspect.