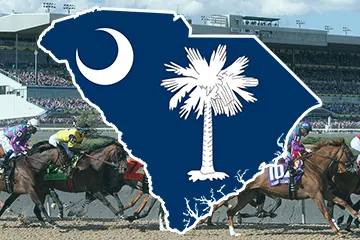 On Wednesday, a bill seeking to allow residents of South Carolina to wager on horse races passed the House on a 54-44 vote. The move comes only four days after the Carolina Cup contests were held. If the bill becomes law, a 10% tax would be imposed on operators' gross gaming revenue from wagers. According to a Revenue and Fiscal Affairs Office analysis, 95% of the collected taxes would be used to benefit those in the equine industry.
What Will Change If the Bill Becomes Law?
South Carolina House approved the legislative effort in a bid to revive the struggling equine industry in the state. Proponents of the bill, sponsored by State Representative Russell Ott, explained that the legalization of horse race wagering would provide a much-needed boost to the industry.
Under the proposed legislation, bettors would be able to place wagers on horse races through advanced deposit wagering. They would be required to register with an approved operator, such as FanDuel or DraftKings, and deposit funds, which they could then use to bet on horse races that take place across the country.
The proposed legislation is separate from another bill that seeks to legalize online sports betting in South Carolina. However, the two bills are connected, as the horse race wagering bill is incorporated into the online sports betting legislation. However, the debate on the bill did not go without controversy. Family Caucus Chairman, John McCravy, proposed several amendments to the bill, but most of which were rejected.
What Critics and Proponents of the Bill Say?
South Carolina is one of the few states prohibiting wagering on sports and horse races. State Representative Russell Ott shared memories from his childhood when the equine industry was thriving, and many people worked in the sector.
McCravy, a Greenwood Republican, explained that he supports the idea of spending money in the state budget to support the equine industry but legalizing horse race wagering to raise funds is not the right thing to do. The Palmetto Family Alliance also expressed their disapproval of the bill, explaining that legalizing sports betting and horse race wagering would increase the number of people affected by gambling problems.
Some opponents of the bill even said that the legislation was rushed. But Mr. Ott explained that he worked on the legislation for four years and added that South Carolina missed out on millions if not billions on tax revenue and cannot compete with other states that have already legalized gambling and sports betting activities. Many people in South Carolina wager on sports and horse races illegally. And by passing the bill, the state would be able to regulate and tax the betting industry.