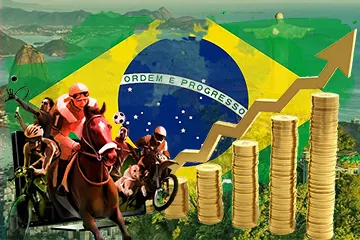 This Thursday, Brazil's Finance Ministry announced that sports betting firms will pay a 15% tax on their gross gaming revenue (GGR) and a BRL30 million ($5.9 million) license fee. As a result, betting companies asked for payment flexibility. The steep fees raised concerns about whether small companies will be able to enter the Brazilian market.
The tax regime will officially come into effect through an executive order, which is expected to be published after resident Luiz Inacio Lula da Silva and Finance Minister Fernando Haddad come back from their trip to China next week.
Brazilian Government Hopes That the New Tax Regime Will Boost Revenue
Details about the tax regime were first reported by the news website Poder360. The move comes as part of the government's plan to attract fresh money flow to the country's coffers. Finance Minister Fernando Haddad projected that the country would generate between BRL12 billion ($2.37 billion) and BRL15 billion ($2.96 billion) from sports betting.
After it became clear that the Brazilian government will levy a 15% tax on sports betting companies' GGR (the revenue obtained from all wagers minus the amount paid for prizes), the Finance Ministry will gather feedback from other ministries and sports entities from April 10 to April 16. Major soccer clubs will have the opportunity to express their opinions on the new tax system on April 11, while Brazil's soccer federation CBF will be heard on April 13.
In March this year, the Brazilian government unveiled its plans to bring back the country's Lotex instant lottery, after it was discontinued for years under Michel Temer's government. The government shared hopes to generate BRL5 million ($998 million) a year from Lotex's operations.
Betting Companies Request Flexible Payment Plan
Sports betting companies that want to continue operating for another five years on the Brazilian market will pay a license fee of BRL30 million ($5.9 million). The conditions under which sports betting companies will be allowed to make their payments will be discussed after the provisional measure goes into effect.
But sports betting companies asked the government to allow them to pay the fees in installments so they can continue sponsoring major soccer clubs. The Attorney General of the National Lottery has been tasked with analyzing the recently introduced measure. It was announced that the government is open to negotiations.
According to the current law, Brazilian sports entities that transfer their brands to bookmakers can benefit from an allocation of 1.63% of the net revenue obtained by betting companies. But the confederation wants this percentage to be increased to 4% on gross revenue.