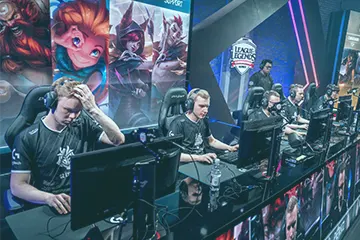 State Rep. Ed Neilson is the lawmaker who suggested that Pennsylvania should legalize esports betting due to its growing popularity. The legislator explained that many other states have already regulated the industry and are now reaping large profits from this legislative move.
Mr. Neilson and four of his colleagues introduced HB733, which seeks to regulate the esports betting industry. The bill is in the process of moving through the General Assembly. If approved, Pennsylvania will become one of the multiple states that permit esports betting.
Pennsylvania Lawmakers Support the Esports Betting Bill
The lawmakers supporting the bill explained that other states, such as New Jersey, have already legalized esports betting, while many others are considering regulating the market. Nevada is another example of a state which aims to stay on top of the gambling trends. Some of the most attended casinos in the state announced that they are ready to host esports tournaments.
If HB733 becomes law, Pennsylvanians will be able to wager on the outcome of various esports tournaments, with the most popular being Counter-Strike, Dota 2, and League of Legends. Under the bill, bettors must be at least 21 years old, while participants in an esports event must be at least 18 years old. The bill also stipulates that a 36% tax would be imposed on esports betting activities.
The first attempt to legalize esports betting came in June 2021. On March 7, 2023, Mr. Neilson introduced HB69, which was amended four times until March 28. Although the legalization of sports betting is not the main priority of the General Assembly, the bill is gaining momentum.
Esports Betting Industry Has Immense Potential
Mr. Neilson and other lawmakers believe that esports is a successful industry projected to grow to $1.8 billion. The legislators also claim that the global esports market size is currently valued at $1.1 billion. They argue that Pennsylvania should regulate the industry and be on par with other states. Mr. Neilson and his colleagues who support the bill pointed out that Philadelphia has already announced plans to build a multi-million-dollar esports arena.
If the bill becomes law, Pennsylvanians will be able to wager on sports, esports, casino games, and poker. Mr. Neilson believes that the esports betting market has a huge potential, and by legalizing it, the state will attract fresh money flow.
For reference, online casino operators in the state generated $162.3 million in gross revenue in February. The sports betting industry does not fall behind. In October 2022, sportsbooks reported a total sports wagering handle of $797.1 million, which marks an increase of 2.69% over the total of $776.2 million generated in October 2021.