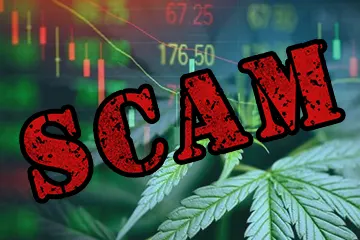 Stephen Shefsky, President and Chief Executive Officer of Toronto-based James Bay Resources Ltd., is trying to recover $3.5 million, which he lost after giving the money to a California man as an investment in a cannabis business. The man was found to be involved in a large-scale Ponzi scheme and sentenced to over 17 years in prison for fraud. The money is believed to be lost to gambling at Wynn Resorts in Las Vegas.
Fraudster Gambles Away a Canadian Businessman's Investment
Stephen Shefsky loaned $3.5 million to former decathlete David Bunevacz as an investment in a cannabis marketing company. But Shefsky did not know that the California man was involved in a fraudulent investment scheme. According to U.S. District Court Judge Dale Fischer, Bunevacz targeted only individuals with whom he had a friendly relationship. He collected money from his victims, explaining to them that their investment would be used to fund companies marketing cannabis vape pens.
Shefsky is now trying to obtain an order through the U.S. District Court in Nevada that would allow his legal team in Las Vegas to subpoena Wynn Resorts officials who can provide information about David Bunevacz. The gambling company is accused of failing to report huge gambling losses to the Financial Crimes Enforcement Network. Wynn Resorts officials have not commented on the case yet.
Ponzi Shceme Mastermind Makes Over $45 Million
On July 18, 2022, David Bunevacz was accused of deceiving investors and sentenced to over 17 years in prison. The man has been orchestrating a Ponzi scheme since 2010. At that time, he started establishing various companies, which he claimed were involved in the cannabis industry. The Justice Department said that Bunevacz raised over $45 million from more than 100 victims.
The man was also accused of registering shell companies under the names of legitimate business entities. Bunevacz listed other people as corporate officers of these companies to cover his tracks. Next to his prison sentence, Bunevacz was ordered to pay $35.3 million in restitution. This is the total amount investors reportedly lost.
California court documents state that Bunevacz attended a cannabis business convention in Las Vegas together with Shefsky. The U.S. Attorney's Office in the Central California District explained that Bunevacz lied to investors that he had been working with a manufacturer of disposable vape pens for years.
The man also presented fake documents, such as bank statements, invoices, and purchase orders, in front of investors to prove the success of his business. But Bunevacz used the funds he received from investors to pay for expensive vacations, designer clothes, and even his family's house in Calabasas.