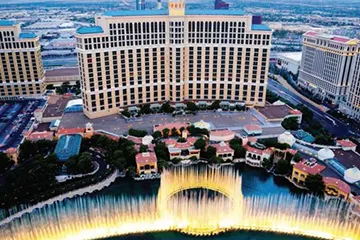 Court documentation obtained by 8 News Now revealed that Las Vegas law enforcement has arrested two dealers for helping players cheat in baccarat. The Nevada Gaming Control Board was alerted of the alleged violations in May 2022 by an individual working for the Rampart Casino in Summerlin's JW Marriott Las Vegas Resort.
What followed was a meeting between representatives of the gambling watchdog and the casino's staff, which led to the disclosure that two regulars of the casino had raised suspicions among staff members for abnormally frequent wins. An examination of security surveillance footage was also conducted, and it revealed that Yuxuan Leng and another baccarat dealer would show cards to the patrons in question before wagers were placed. The evidence revealed that this form of cheating had happened on six occasions.
The Cheating Players Pocketed Thousands of Dollars
Investigators noted that this practice gave the players an advantage and allowed them to place their bets based on the games' outcomes. This led to the patrons cashing in winnings amounting to $5,000 per player. Two of the violations were committed by Leng, while the one responsible for the rest of the cheating incidents was not named.
One of the patrons confessed to requesting the revealing of cards and exploiting the knowledge. Although the unnamed dealer did not admit to showing cards in exchange for money, investigators did arrest them over their alleged wrongdoings. Their current status is unknown. As for Leng, an arrest warrant resulted in her being taken into custody in early November. She is facing potential charges on several counts, including cheating and the class C felony of attempting or conspiring to cheat. These felonies can each result in between one to five years of prison time and substantial fines.
Cheating Scandals are Relatively Common in Las Vegas
Given Las Vegas' reputation for having the most retail casinos in the USA, issues surrounding cheating are not rare. The past several years seem to have been particularly eventful for the city, as multiple cheating cases besides Lang's were uncovered.
In 2020, another baccarat dealer was accused of assisting a patron in winning and of receiving tips in exchange. The individual who worked for The STRAT was accused of only paying out when the aforementioned player achieved a winning hand. Upon being confronted by law enforcement, the dealer did not admit to committing the alleged transgressions.
A year later, three men were alleged to have cheated in poker-like table games. As shown in court documents acquired by 8 News Now, Nevada's gambling regulator was notified of the wrongdoings by Paris Las Vegas' casino manager. The individuals had visited casino multiple establishments, and according to the allegations, they had utilized a technique dubbed "card bending," which involves bending the corners of a card in order to disclose its value. This resulted in illegitimate winnings of over $120,000, and financial penalties and prison time served as the trio's punishment.