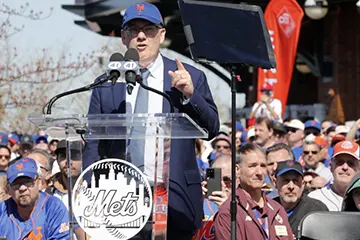 Billionaire and owner of the New York City Mets baseball team, Steve Cohen, revealed his intentions to build an $8 billion casino and sports complex in Queens, New York City. In a nod to the team's corporate name, the complex will be named "Metropolitan Park."
The proposed project, if approved, will be built on the asphalt-covered land around the Citi Field baseball stadium. Its facilities will include a casino, sportsbook, 20-acre park, live music venue, renovated train station, and more. As reported by the New York Post, the proposal promises to create 15,000 job positions in the area.
Cohen has partnered with Hard Rock International, Field Operations, McKissack, and SHoP Architects for the purpose of making this project a reality. According to SHoP Architects' Gregg Pasquarelli, Metropolitan Park will serve as a major landmark in New York City, and it will significantly change the land surrounding the City Field Stadium. Cohen also expressed his enthusiasm regarding the project, saying that it will grant New York City "the sports and entertainment park it deserves."
However, reaching the stage where development can officially begin is not going to be easy. Cohen and Hard Rock International will need to gain legal approval from New York Governor Kathy Hochul and the state's authorities before proceeding with construction. This will entail the introduction of a bill that, if passed, will change the land's current designation as parkland, thus giving its owners the green light to develop commercial buildings on the property.
Potential Licensing Difficulties
Apart from gaining approval to build a commercial center in the area surrounding Citi Field, a gaming license will also be necessary, given Cohen and Hard Rock International's plans to build both a casino center and a sportsbook on the complex's premises. This could prove to be challenging, however, due to the casino licensing legislature of New York.
Licenses can only be issued by the jurisdiction's New York State Gaming Commission, and a limit of three licenses is imposed on the downstate New York area. Currently, casino giant MGM is planning on acquiring a permit for its Empire City Casino. Another establishment that has the potential to receive a license is Genting-owned Resorts World Queens. As both companies' applications are likely to be accepted according to predictions, this means that a single obtainable license will remain, and Cohen and Hard Rock Entertainment will not be the only ones aiming to gain approval for a casino project.
What is more, Cohen's past could prove to be another hurdle in gaining authorities' approval. SAC Capital, a hedge fund the billionaire founded in 1992, was charged for insider-trading and pled guilty to wire fraud and securities fraud in 2014. The hedge fund paid a total of $1.8 billion in legal penalties. Although Steve Cohen himself was never charged, the case could, nonetheless, affect Metropolitan Park's chances of gaining approval. This is due to the fact that, according to the NY State Gaming Commission's rules, applicants need to provide proof of their "good character, honesty, and integrity."