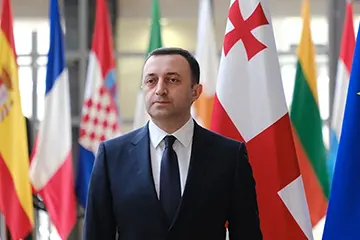 Irakli Garibashvili, Prime Minister of Georgia, has officially disclosed plans to increase the taxation rate of gambling operators. Instead of the current 10%, their profits will be taxed at 15%, in line with a government initiative to restrict the public's participation in the gambling sector.
This is not the single change expected to impact the industry though, with a sceduled correction of the cash withdrawal fees for players. As part of the plan, Garibashvili also said that the withdrawal fees would increase to 5%, from the current 2%. Following these amendments in the corporate tax on gambling profits, an additional GEL400 million from the gambling business is expected to be collected in 2024.
The Georgian Prime Minister shared that he was equally surprised and saddened by the increase in turnover:
"Here, on the one hand, I would like to express my surprise and, on the other hand, my sadness, that the turnover of the gambling business is increasing".
He added that despite the governmental measures to limit the industry,
"too many citizens are still involved".
Gambling Turnover Increases Despite Government Measures to Limit Participation in the Industry
The total turnover from the industry swelled from GEL48 billion to GEL52 billion (approximately USD19.2 billion) in 2022, which the Prime Minister described as "catastrophic".
Although the Georgian government seems intent on halting the industry's prompt expansion, the number of citizens participating in it is on the rise. Last year, the authorities introduced a ban on gambling advertisements across national media.
In addition, the government increased the legal gambling age to 25. Individuals aged under 25 were prohibited from gambling, which meant that approximately 1.5 million were denied access to gambling products of all sorts. This move was propelled by adherence to safer gambling practices and combatting problem gambling behavior, especially among younger demographics. Moreover, public employees and self-excluded players were barred from participation in gambling.
According to the new set of rules introduced at the beginning of the current year, the country's ten retail gambling operators would be allowed to hold an online gambling license too. Online slots would be restricted to retail locations and sports betting aficionados would place their wagers at physical establishments too. Licenses permitting exclusively online gambling operations would be available, against an annual fee amounting to €1.6 million.
Alex Szilaghi, president of Szilaghi Consulting, an iGaming consulting company, commented on the fee, stating that it was rather substantial given the country's dimensions and population.
According to the Georgian Gambling Association, licensed providers of gambling and betting services in the country encountered difficulties adopting the new regulations over the last couple of years. This, in turn, led to the arrival of a substantial number of illegitimate online operators targetting Georgian players.