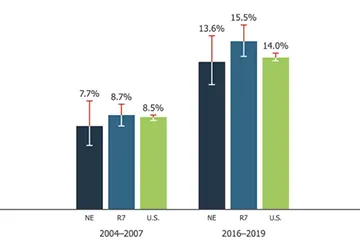 Gambling counselors have recently shared their concerns over the "gradual" rise in Nebraskan problem gamblers seeking professional help over the last year. Voters from the Cornhusker State authorized tribal gambling at specific land-based casinos back in 2020. With the passing of the Nebraska legal sports betting bill in 2021, licensed horse racing tracks were allowed to offer retail betting too.
The new epoch of liberalized gambling in the state has generated millions of dollars in tax revenue and boosted the local employment market. Along with that, however, gambling has caused an increase in people in need of professional counseling.
The tendency has been defined as "gradual" by David Geier, Director of the Nebraska Gamblers' Assistance Program. The official program publicizes information regarding the nature and risks associated with gambling and directs funds for problem gambling therapy. As per the organization's records between 2019 and 2021, the program's helpline had been used by approximately 220 people monthly. This number rose to 260 individuals per month during the first half of the current year.
Geier further commented that the time needed to realize a gambling disorder and recognize its gravity might vary for different people. It depends on a variety of factors such as the type of individual and the type of gambling product.
Geier's observations on the gambling landscape in Nebraska are shared by yet another problem gambling specialist, Michael Sciandra, from Choices Treatment Center. A recovering gambler himself, and currently an education and outreach coordinator, he confirmed that more people sought help in 2023. Besides the upward tendency, he also noted that the number of relapsing gamblers was on the rise as well.
Now that casino gambling was within convenient proximity, problem and at-risk gamblers who used to travel to Iowa could succumb to their addiction at home.
Sports Betting Also Impacts Problem Gamblers in Nebraska
The Nebraska Racing and Gaming Commission's Executive Director, Tom Sage commented on the popular problem-gambling tools for keeping gambling under control, with the self-exclusion option at the forefront. It had been used by a scarce number of gamblers within Nebraska ever since gambling was legalized.
As Michael Sciandra, pointed out, casinos are just one part of the problem, with online gambling, sports betting, and skill-based games also wielding their powers on problem gamblers.
David Geier commented that, according to statistics, sports betting can attract a younger audience. In addition to the lower age limit, sports betting tends to entice punters far more swiftly compared to other gambling products.
As per the current gambling legislation in the state of Nebraska, online gaming and sports betting are prohibited. According to Geier, this ban on online gambling would soon be lifted, giving neighboring Iowa as an example. The legalization of the online gambling sector in Nebraska would attract more problem gambling resources to the state.
The Nebraska Gamblers' Assistance Program has invested resources into raising the pay rate of its counselors and adding new professionals to its team. Additionally, the state program has directed funds toward the popularization of responsible gambling practices through TV ads, digital media outlets, and social media channels.