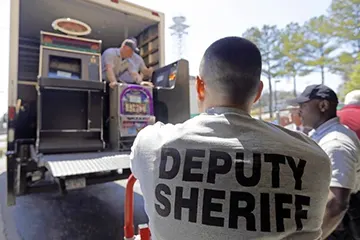 An investigation led by the Chatham County Sheriff's Office uncovered illegal gambling violations committed by nine owners of local businesses. A total of 51 gas stations, stores, and other Chatham County establishments were investigated by law enforcement, 17 of which were discovered to be in breach of state regulations, while 34 were found to be fully compliant with the law.
One Business Was Found to Own 50 Gambling Machines
Unlawful possession of at least six pieces of gambling equipment is the first type of violation associated with this case. In the undercover operations launched by Chatham County authorities, some businesses were found to own dozens of slot machines and fish table games as stated by the sheriff's office, the most jarring case of which was that of Infinity Gaming Software LLC which was in possession of 50 illegal machines. According to the sheriff's office, the establishment's owner, Nitinkumar Jagjivandas Patel, faced charges for 10 counts of felony for the operation of over five game machines, along with 4 misdemeanor charges.
Other significant breaches were those of A&M Amusement LLC. Its ownership of 35 gaming machines led to Jeffrey and Ashley Rigsbee, those in charge of the establishment, being charged with seven felonies and four misdemeanors. Yaseen Abdullah, the owner of BJS Gas/Bennett Vape and Tobacco, was the last owner to be found in possession of over a dozen pieces of gambling equipment. Authorities seized both the equipment, and any funds made from the illegal operations.
Business owners were also found guilty of offering cash payouts, which is illegal under North Carolina's gambling law. This accounts for both games of chance and games that involve skill. The final type of infraction that led to penal consequences had to do with the fact that the businesses promoted gambling, which also violates state law.
The Gambling Landscape of North Carolina
Although tribal sports betting and tribal casinos can legally operate in the state of North Carolina since 2019, most other forms of gambling are prohibited. This includes the offering of any games of chance, whether they involve skills or not, that can reward players with monetary rewards or other items of value. As such, North Carolina authorities are quick to investigate potential instances of illegal gambling activities within the region, with the Chatham County investigation being the latest to uncover such operations and impose penalties on the parties involved.
As a result of the operations undertaken by the Chatham County Sheriff's Office, law enforcement charged nine individuals with 36 felonies and 39 misdemeanors in total. Sheriff Mike Roberson would also go on to state that their mission as law enforcement was to ensure the safety of the Chatham County community. He expressed that the Chatham County Sheriff's Office valued all businesses that did not breach North Carolina's gambling laws.