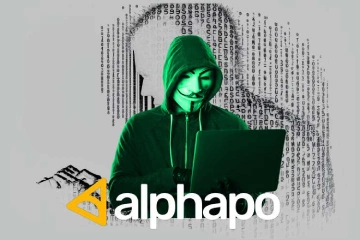 Alphapo, a popular cryptocurrency payment platform known for being used by several reputable gambling sites, has become the target of hackers, who managed to steal at least $31 million worth of digital assets from its hot wallets. The theft may also have impacted the gambling companies such as HypeDrop (a platform selling mystery boxes), Ignition, and Bovada.
Cybercriminals allegedly targeted digital assets on the most popular blockchains, and more precisely Bitcoin, Ethereum, and TRON. Reports suggest that the exact amount stolen by the hackers remains uncertain but ranges between $31 million and $100 million.
ZachXBT, an independent on-chain scam buster, was the first to notice suspicious activity on the platform. The stolen funds were moved fast across several blockchains – a method used in other major hacks. The cybercriminals initially attacked the Ethereum network. After that, they converted the stolen funds to Ethereum and transferred the digital assets to the Avalanche and Bitcoin blockchains.
However, Alphapo is not the only company that has suffered a hack. In October last year, hackers stole around $570 million in cryptocurrencies from the world's most popular crypto exchange platform, Binance. Last August, hackers reportedly stole about $200 million from the U.S. crypto company Nomad. In June last year, North Korean hackers stole $100 million in digital assets from Harmony. Only four days earlier, media agencies reported that the decentralized finance protocol Conic Finance lost over $3 million in a hack.
Gambling Companies Did not Suffer from Alphapo's Hot Wallet Hack
On July 22, Alphapo officials were informed about the security breach. The company's cybersecurity team immediately launched an investigation and revealed that hackers compromised their security systems, potentially benefiting from the leakage of private keys. Alphapo temporarily suspended transactions and the transfer of funds, assuring its users that their assets are safe and intact.
As a result of the hack, one of Alphapo's customers, HypeDrop, suspended its crypto transaction. The company tweeted that once Alphapo resumes operations, all deposits would be processed. HypeDrop warned its customers that withdrawals would be pending until the cryptocurrency platform resolves the problem. After that, HypeDrop users must submit new withdrawal requests to cash out their funds.
None of the gambling companies that Alphapo supports reported that they experienced damages caused by the hack. However, they did not inform their customers about the incident, nor did they take any action to protect them from potential losses.
The recent hack targeted at Alphapo indicates that country officials must establish rules to govern the cryptocurrency market and keep users safe. The United Kingdom has been trying to introduce adequate laws to regulate the crypto market. However, the country's latest attempt to regulate cryptocurrency trading as gambling failed. However, the United Kingdom seems to be actively working on creating laws that would govern the crypto market and protect consumers from hackers and malicious activities.