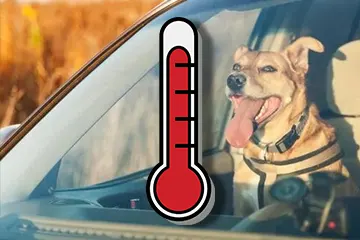 A 68-year-old man from Nassau County was detained Tuesday night by Niagara Falls police for leaving his dog in a hot car. The vehicle was parked at the Seneca Niagara Resort & Casino, and the culprit allegedly spent several hours in the casino while his dog was locked in the car.
According to reports, police officers were notified by a witness who claimed to have seen the man come out of the casino at around 3 p.m. The witness reported that the suspect quickly checked on the dog in the back of his 2018 Mercedes Benz before returning to the casino. The witness told the police that they waited around 20 minutes for the man to return. The witness approached the vehicle when they noticed the dog in agony.
The car was parked in direct sunlight, and all windows were closed. The temperature inside the vehicle was 86 degrees at that moment, according to reports. Police officers arrived and found the dog panting with its tongue out, lying down in the car's rear trunk. It was left without water or food.
Police Officers Save the Dog, Giving it Food While Looking for the Owner Who Left It
The Falls' animal control officer told police officers to break a window if all doors were locked. However, they found that one of the rear doors was unlocked. Police officers could not get the dog out because it did not cooperate. In an effort to save the animal, they gave it water and asked the casino staff to find the owner. After 45 minutes, the man was found and police officers finally established contact with him.
They noted that due to the significant language barrier, a casino translator had to explain to the man what charges he would face. Although the man tried to defend himself by saying he went to buy food and water for the dog, he was accused of animal cruelty and arrested.
Unfortunately, this is not the only case of this kind. Last year, a man left a 3-month-old puppy in a hot car with its mouth taped shut for two hours while gambling. Security staff at the Bellagio Hotel & Casino at 3600 S. Las Vegas Boulevard informed the police about the incident around 3 p.m. Authorities said that the security managed to get the dog out of the car through the sunroof. The dog was left without food and water, and the temperature reached 113 degrees inside the vehicle.
When the man returned to the car, police officers arrested him and charged him with animal cruelty. At the beginning of this year, Nevada's largest animal shelter, The Animal Foundation, reported that it found a new home for the dog and posted pictures on Instagram, which show the animal's happy life.