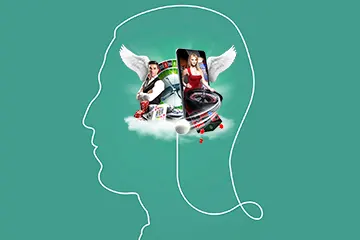 Minimum Deposit Casinos (MDC) has recently published the results of its study into online gambling. According to the findings, people who gamble online spend a lot of time in front of the screen, which leads to various health issues. The month-long study was conducted in a bid to raise awareness and encourage players to gamble responsibly. The results show that 53% of the people who engage in online gambling activities suffer from anxiety or depression.
As many as 404 online gamblers (46.9% males and 53.1% females) residing in Canada, New Zealand, the United Kingdom, and the United States participated in the survey. The study found that there is a direct connection between people's online gambling habits and some health issues. The results will be used to help online gamblers to limit the time they spend in front of the screen and improve their health condition.
According to the study, most online gamblers are between 20 and 30 years old. Of all respondents, 56.5% revealed they mostly use their mobile devices to gamble online, while 26% use PCs or laptops. Moreover, 11.9% prefer tablets, and 5.6% use other devices such as Play Station, Smart TV, and others. According to the study, the use of laptops is the highest in Canada of all four countries.
When asked about the time they usually spend on gambling, 25.5% of the respondents said they spend up to 2 hours on gambling, 24.3% spend 3 to 4 hours, 13.6% – 5 to 10 hours, and 14.1% – 10 hours and more. As much as 22.5% of the surveyed people said they spend less than an hour on online gambling activities.
Online Gambling May Cause Some Serious Health Concerns
Many studies have proven that there is a link between online gambling and various physical, social, and mental health issues. The current research revealed that 10.7% of the participants complained of eye strain or vision problems. Of all respondents, 14.4% experienced neck or back pain, while those who complained of headaches and migraines amounted to 14.1%.
As much as 11.5% of the surveyed people said they experienced sleep disorders, another 15.9% suffered from anxiety and depression, while 10.3% admitted having stress problems. A small percentage of those inquired had acne or other skin issues, social isolation, and wrist or hand pain.
The study revealed that anxiety, depression, headaches, and migraines are the main health concerns among those aged 18 to 29. Most people between 30 and 44 years experience headaches, migraines, neck or back pain, anxiety, and depression. The 45 to 60 age group is the least affected by health issues supposedly caused by online gambling.