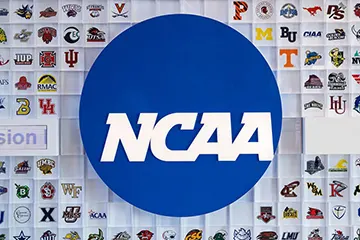 On Wednesday, the National Collegiate Athletics Association (NCAA) published the results of its survey, which included 3,527 college students aged between 18 and 22. Of all respondents, 58% admitted they have engaged in sports betting activities at least once. According to the study, 67% of all surveyed students living on campuses bet regularly, while 16% of the queried young adults have demonstrated signs of risky behavior at least once. As much as 63% of the surveyed on-campus students have seen betting commercials.
Key Findings of the NCAA Survey
The survey was commissioned by Massachusetts Governor Charlie Baker just several weeks after he assumed the position of NCAA president. Baker is committed to introducing new baseline data on college student sports betting activity. His efforts are motivated by the numerous sports betting sites and advertisements that target young people and on-campus students.
Opinion Diagnostics conducted the survey, which included 3,527 18-to-22-year-old college students and young adults not attending college. Of all respondents, 58% said they have placed a sports wager at least once, 37% have engaged in two or more betting activities, and 24% have participated in three or more betting activities.
Of all on-campus students, 67% are regular bettors, with 41% having wagered on their school's teams. As much as 35% of the students living on campuses wager through a student bookmaker platform. Of the queried young adults who wager on sports, 16% have engaged in risky behavior at least once, and 6% have previously lost over $500 in a single day. Of all young adult gamblers, 59.2% bet to win money, while 40.8% place bets to support their favorite teams or athletes.
Gambling Participation Based on Various Socio-Demographic Factors
The survey revealed that the most popular sports and leagues among young adults are the National Football League (56.6%), National Basketball Association or Women's NBA (38.5%), college basketball (31.6%), and college football (29.9%).
Results show that in-play betting is the most popular type of bet among young adults who use betting apps or in-person sportsbooks to place their wagers. As much as 27.5% of the respondents who bet prefer to place their wagers through mobile sports betting apps. According to the survey, 29.9% of all young adults typically wager between $10 and $20, while 4.5% wager amounts greater than $100.
The survey found that 68% of the respondents participating in sports betting activities are African Americans. Hispanic or Latino respondents account for 63% of all young adult bettors. Of all surveyed young adults who have participated in sports betting activities at least once, 54% are of Asian origin, and only 54% are white or Caucasian.
The survey also revealed that the sports betting activity rates in areas where sports betting is legal are nearly the same as in areas where it is illegal. Two-thirds of men and 51% of women engaged in sports betting activities. The NCAA is to release an athlete-only survey this fall.