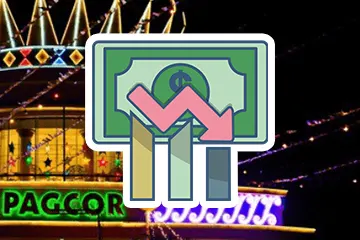 In an advisory note filed this Tuesday, Maybank Securities warned the Phillippines gambling regulator PAGCOR, which seeks to sell the 41 casinos it operates, that the asking price of Php80 billion (US$1.47 billion) is too high considering that domestic players shift from PAGCOR casinos to the integrated resorts in Manila and Clark.
Maybank analyst Miguel Sevidal noted that Manila's Entertainment City and Clark gained a significant market share in the first quarter of 2023, while PAGCOR casinos experienced a dramatic share decline.
PAGCOR's Casinos are Not That Successful as Integrated Resorts in Manila and Clark
Figures revealed by Maybank analyst Miguel Sevidal show that the market share of Manila's Entertainment City has climbed from 70% five years ago to 80% in Q1 2023. Clark's market share has increased from 5% in Q1 2018 to 12% in Q1 2023. At the same time, PAGCOR-operated casinos' market share has declined from 24% in Q1 2018 to 8% in Q1 2023.
Sevidal said that the figures show domestic players' attention has shifted from PAGCOR's casinos to the integrated resorts in Manila and Clark. He noted that Entertainment City's wallet share is on the rise, which confirms his statement that PAGCOR will hardly sell its casinos for Php80 billion.
Sevidal, however, explained that the Phillippines gaming industry is thriving. In Q1 2023, the gambling sector experienced a 107% year-over-year and 21% quarter-on-quarter increase in revenue. Compared to Q1 2019, Entertainment City and Clark's gross gaming revenue (GGR) increased by 38% and 193%, respectively.
In March, Investment bank Morgan Stanley announced that buying interest would likely be low because PAGCOR's asking price is too high. According to analysts, if PAGCOR does not reduce the asking price, companies interested in acquiring the casinos will back off.
Why Does PAGCOR Chairman Aim to Privatize the Agency's Casinos?
At the end of March this year, SuperCasinoSites reported that PAGCOR considers privatizing its 41 casinos. The gambling regulator expects to raise about Php 80 billion (US$1.47 billion) for the state coffers. The regulator pledged to keep in mind the welfare of employees if it sells its casinos. Last year, all Philippine casinos generated a GGR of Php 184 billion (US$3.3 billion), of which $288.3 million was contributed by the Casino Filipino brand.
PAGCOR Chair Alejandro Tengco announced that he will focus on the privatization of PAGCOR's casinos during his term, which could run through 2028, in line with the presidency. The gambling watchdog seeks to sell its casinos because it wants to focus on its regulatory function.
In April, a subsidiary of SM Investments Corporation expressed interest in acquiring some of Casino Filipino's branches if PAGCOR moves ahead with its privatization plans. Armin Antonio Santos, president and Chief Executive Officer of SM Investments Corporation, said that the company has no specific plans yet on whether it will bid on all 41 PAGCOR-owned casinos or just a few.