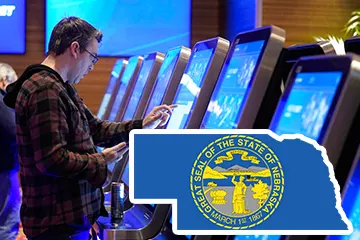 On Friday, the Nebraska Racing and Gaming Commission ratified the list of sports on which locals can bet. Nebraskans will be allowed to wager on popular leagues and certain collegiate sporting events as of July 15, when the sports betting industry is expected to be up and running. The list is quite exhaustive, leaving no room for confusion.
On Which Sports Nebraskans Can Wager?
On May 12, Nebraska's gambling watchdog okayed a list specifying all sports and teams on which residents can place wagers. The list is also referred to as the "Sports Wagering Catalog" and encompasses major leagues such as the National Football League (NFL) and the National Basketball Association (NBA).
The catalog also includes a range of college sports, including football, men's and women's basketball and volleyball, lacrosse, water polo, swimming, and field hockey. Betting on professional golf and tennis, bull riding and rodeo, and motorsports will be permitted, too.
Wagering on sporting events in which an in-state college or university team participates will be prohibited. However, Nebraskans can bet on college basketball down to Division 3 and college football to Division 2.
The catalog is quite detailed, specifying not only the leagues but also the events on which betting will be allowed. For instance, Nebraskans can wager on Major League Baseball (MLB), and more precisely on spring training, regular season, post-season, All-Star Game, All-Star Game Home Run Derby, and All-Star Game Most Valuable Player (MVP). Nebraskans should know that all bets must be placed in person as online gambling is not allowed in the state.
The first location to accept sports wagers is to be WarHorse Lincoln. Lynne McNally, Chief Executive Officer of the Nebraska Horsemen's Benevolent and Protective Association, a partner in the Lincoln Casino with Ho-Chunk Inc., said that the casino hoped to start accepting sports wagers this month, but some vendors still need to complete their applications. She added that Lincoln Casino is expected to start taking sports wagers from June 15.
The Sports Wagering Catalog is Likely to Grow
Tom Sage, executive director of the Racing and Gaming Commission, explained that new sports could be added to the "Sports Wagering Catalog", but the regulator wants to ensure that it can handle the level of betting activity. At the moment, the list does not include international sports, meaning Nebraskans will not be able to wager on any European soccer game. But Sage assured that the list of sports Nebraskans can wager on is likely to grow.
Sage explained that each sport on the list must have a regulatory body. For instance, the Augusta National Golf Club regulates the Master's Golf Tournament, and the Professional Rodeo Cowboys Association is tasked with overseeing betting on the Xtreme Bronc Finals.