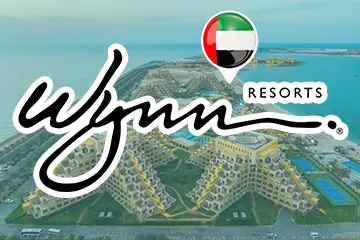 In an interview on Monday at the Arabian Travel Market convention in Dubai, officials revealed that Chinese tourists and loyal patrons would be among the key customers of Wynn Resorts' new multi-billion casino resort on the Al Marjan Island in Ras Al Khaimah, the United Arab Emirates. The gambling establishment is expected to open in 2027 and offer 1,500 rooms, 24 dining and bar spaces, spa services, and luxury shops.
Chinese Tourists and Casino Patrons are Seen as Important Customer Base for Wynn's Integrated Resort
According to Wynn Resorts officials, Chinese tourists will be among the regular attendants of the casino resort, which is to open its doors in early 2027 and be one of the largest hotels in the United Arab Emirates. Loyal patrons of Wynn Resorts are also expected to be among the resort's most regular customers.
In an interview, Raki Phillips, the chief executive officer of the Ras Al Khaimah Tourism Development Authority, said that Chinese people had never been their target clientele in the past, but their focus has recently changed. To the question of whether other casino operators were interested in building such facilities in the United Arab Emirates, Mr. Phillips answered that the region sparked the interest of many other gambling companies due to the immense tourism growth.
Alison Grinnell, chief executive officer of RAK Hospitality Holding, one of the investors in Wynn's UAE resort, said that Wynn's regular clients are crucial for the success of the casino resort in the UAE. She added that Wynn is proud of its loyal following of select clients and explained that the company carefully chooses the locations for its casino resorts.
Wynn Resorts Unveils Plans to Open a Resort with "Gaming Area" in the UAE by 2027
Last Thursday, Wynn Resorts officials announced that the company is to open an integrated resort with a gaming area by 2027. The $3.9 billion resort will occupy 5.6 million square feet, while the casino will take only 4% of that. The resort's main attraction will be the 1,000-foot-tall hotel tower on the Arabian Gulf.
But the UAE is a Muslim country, and according to Islam laws, gambling is a "grave sin". Therefore, UAE citizens will not be allowed to enter the gaming area of Wynn's integrated resort. Another interesting aspect of the UAE regulation is that a tax of 5% is imposed on the so-called "high-end games", while "mass-market games" are taxed at 15%. Visitors will also have to pay a fee to enter the casino.
Ms. Grinnell said that Wynn's resort may encourage other operators to work with local authorities on other casino ventures. She also explained that the word "gambling" has a negative connotation, and that is why Wynn's resort will include a "gaming" instead of a "gambling" area.