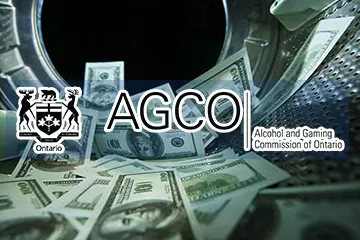 The Alcohol and Gaming Commission of Ontario (AGCO) is to carefully analyze the actions of several Ontario casinos, which allowed suspicious transactions of more than $4 million, CTV News Toronto reported. The watchdog's decision to review several Toronto-area gambling facilities came after the media agency had revealed that Branavan Kanapathipillai, an alleged money launderer, executed casino transactions totaling millions of dollars. The gambling regulator is to determine whether or not the casinos that accepted cash from Kanapathipillai met all anti-money laundering requirements.
Which Ontario Casinos the Regulator Will Inspect?
Since January 2022, casinos have been obliged to comply with new standards to combat money laundering. Among all other requirements, gambling establishments have to verify the sources of funds that their players use. But several Ontario casinos reportedly accepted multiple suspicious transactions despite all the red flags, which sparked a police investigation.
According to an affidavit filed in a Newmarket Superior Court, Branavan Kanapathipillai made a transaction of $80,000 at Casino Rama. The cash was separated into eight bundles and handed to the casino cashier in shipping envelopes.
Kanapathipillai claimed that he received the money from Fallsview Casino. According to Fallsview Casino staff, the man deposited and immediately withdrew funds from his account, which is not typical for his usual gaming activity.
In July 2022, Kanapathipillai made ten transactions totaling $824,700 at Pickering Casino. As a result, the casino wrote a suspicious report, explaining that the man used an unclear source of cash, and over 100 of the cash transactions were not related to gambling activity.
In September 2022, the alleged money launderer generated $1,529,700 in large transactions and $1,348,115 in disbursements at One Toronto Gaming, which operates Casino Woodbine, Pickering Casino Resort, Great Blue Heron Casino and Hotel, and Casino Ajax. According to the casino report, the man claimed that he used money from a third party's source of funds to gamble.
A Two-Decade History of Fraud Revealed
In November last year, Kanapathipillai presented approximately $100,000 at Fallsview Casino. Although the man said that he was gambling with the proceeds of a third mortgage, the casino staff reported the transactions as suspicious, and the Ontario Provincial Police (OPP) confiscated the money.
Officers alleged that the Kanapathipillai was working with a loan shark and had multiple driver's licenses, bank accounts, and false identities. Branavan Kanapathipillai did not appear for a court hearing about whether the seizure would be permanent. Despite all the evidence proving that Branavan Kanapathipillai has been laundering money at Ontario casinos since 2016, he has not been charged with a crime thus far.
With the police investigation being completed, AGCO announced that it will review the actions of the casinos that accepted the suspicious transactions. The regulator's review will include consideration of rules requiring casino operators to abide by the set anti-money laundering standards to identify and prevent suspicious transactions.