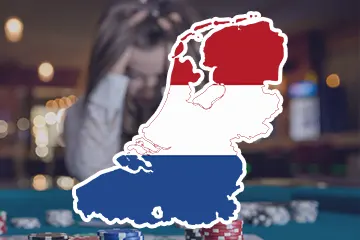 Yesterday, the Dutch gambling authority, Kansspelautoriteit (KSA), unveiled information about the new changes to the country's self-exclusion scheme Cruks. The updated version of the self-exclusion program aims to make it easier for players to temporarily exclude themselves from gambling. In addition, a reflection period of eight days has been added for players who want to continue gambling after the set self-exclusion period elapses. Moreover, a "Gambling Stop" message will replace the previously-used "Play Break" phrase.
The New Changes Allow Players to Request Self-Exclusion Easily
Yesterday, KSA announced the launch of the updated version of the country's self-exclusion scheme called Cruks. Operators who have acquired a Dutch license must connect to the Cruks system and check if new players are not enrolled in the self-exclusion scheme. Cruks was launched in 2021, and since then, 38,000 players have signed up to self-exclude from gambling.
The changes to the Dutch self-exclusion scheme aim to make the program more efficient and allow players to self-exclude without much effort. The minimum exclusion period remains six months.
However, players who want to resume gambling after the self-exclusion period will be provided with a "reflection" period of eight days, during which they can decide whether they really want to return to their old habits. Individuals who opt to exclude themselves from gambling for longer than six months do not have to go through the eight-day reflection period.
Furthermore, the previous version of the register carried the "Play Break" message. But the updated version of the self-exclusion program will use the "Gambling Stop" message. The decision to change the phrase came after research found that "Play Break" did not accurately reflect the program's objective.
The Netherlands Bans Untargeted Gambling Advertising
With the opening of the Dutch gambling market to foreign operators in October 2021, gambling advertising has become ubiquitous. Concerned about the surge in untargeted advertising, the Dutch government has started tightening the gambling advertising rules. In June last year, the country banned celebrities and influencers from appearing in gambling commercials.
Earlier this month, the Dutch government announced that untargeted gambling adverts will be banned as of July 1. Operators will no longer be allowed to target underage individuals and at-risk players. The ban extends to radio and television commercials, as well as billboards.
Gambling advertising over the Internet will also be restricted. Under the new rules, users must be allowed to opt out of seeing gambling adverts. Moreover, broadcasters and operators must ensure that gambling commercials are seen only by people at least 24 years old. These rules are also valid for social media, video-on-demand, and mail advertising.