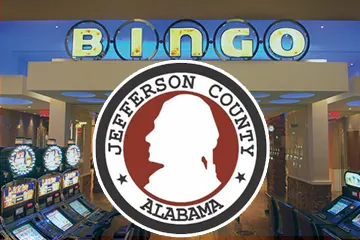 In a press conference held this Tuesday, Alabama Attorney General Steve Marshall announced that 14 illegal gambling facilities in Jefferson County, Alabama, were forced to temporarily cease operations. The venues hosted over 2,400 illegal gambling machines and multiple non-profit and for-profit entities, but no arrests have been made so far. The Federal Bureau of Investigation (FBI) and the Drug Enforcement Administration (DEA) actively participated in the crackdown.
Alabama's Attorney General Determined to Win the Battle against Illegal Gambling
On April 11, Super Highway Bingo and Moe's Charity Bingo on Bessemer Super Highway in Brighton were closed, and a notice taped on the properties' doors informed visitors that unauthorized attempts to enter the venues may result in criminal charges.
Under temporary restraining orders (TROs) obtained by Attorney General Steve Marshall's office, the facilities are not allowed to operate or accept financial transactions until further orders from the Circuit Court of Jefferson County. As part of an ongoing investigation, Marshall's office obtained and executed search warrants at each of the bingo halls involved.
Attorney General Marshall said that the illegal gambling venues were operating against state law without worrying they might be penalized. He explained that his office received multiple complaints about the problems these illegal gambling facilities could bring. He added that the recently closed illegal gambling venues were associated with other criminal activities and those who operated these venues disregarded the law.
Local Authorities Were Not Involved in the Investigation
Marshall pointed out that the illegal gambling facilities did not contribute to the economy in the areas where the venues were located. He also urged people with authority to fight against illegal gambling. He said that people should not just close their eyes to the problem under the pretext that other problems must be solved first.
Mr. Marshall's words came in response to Jefferson County Sheriff Mark Pettway's announcement from 2019, in which he stated that he has more serious crimes to deal with than illegal gambling. Local law enforcement agencies did not participate in the investigation. Lieutenant Joni Money with the Jefferson County Sheriff's Office said that they were not even informed about the investigation.
To the question of why local authorities had allowed the illegal gambling facilities to operate for that long, Marshall replied that he could not speak instead of the concerned authorities and added that he would uphold the law.
But the closure of the venues was not welcomed by everyone. Tyrone Collier was at Super Highway Bingo on Monday evening and commented that many people living in the area enjoyed going there. The man expressed concerns that his neighbors will start traveling to other states to play bingo.