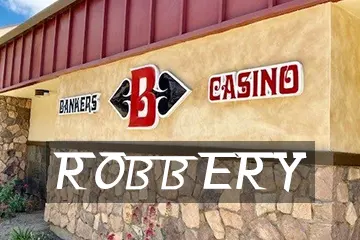 At around 7 am on Sunday, a man entered the Bankers Casino and filled his backpack with over $95k. An employee responsible for accounting for the casino's cash noticed the discrepancy between the money present and the money reported. The casino alerted the police, which arrived immediately on the scene. Investigators still wonder how the man could have walked out of the casino with a backpack full of money without being noticed.
Strange Circumstances Surrounding the Casino Theft
The man who stole the money went unnoticed for quite a long time, which has bewildered investigators. Casino surveillance cameras captured the man who wore a dark hoodie, black jeans, a black facemask, and sunglasses at the time of the incident. The offender is six feet tall and weighs around 200 pounds. Despite the detailed description of the man, the police have not arrested anyone yet.
The Bankers Casino and Salinas police refrained from commenting on the case and answering the question of how is it possible for someone to enter a casino, go to the cashier, stuff his backpack with money, and walk out without raising suspicion. Although gambling establishments use state-of-the-art technology to keep their cash safe, casino thefts are not unusual.
Offenders usually benefit from some weakness in the working process or collaborate with casino employees to carry out their plans. However, the police have not found any evidence to claim that casino employees have a hand in the robbery.
The Largest Casino Heist in Colorado Happened in March
But Bankers Casino is not the only gambling establishment that has recently been in the sight of perpetrators. On March 12, 44-year-old casino cashier Sabrina Eddy allegedly stole $500k from Monarch Casino Resort and Spa in Black Hawk. The woman was arrested on the same day and charged with theft.
Upon checking the video surveillance, police said that Eddy grabbed stacks of money from a casino cage vault and put them into a box, which she taped and took to a minivan parked in the casino's garage. She drove away and came back an hour later to allegedly steal more money.
The suspect claims that she did not want to steal the money. She explained that one of her bosses asked her to bring the money as the casino needed the cash for a UPS order. During questioning, Eddy explained that a man called her on the casino phone and she followed his instructions as she believed the orders came from the casino's head of operations. Eddy remains at the Gilpin County Jail until the investigation concludes. This is one of the biggest casino heists in Colorado.