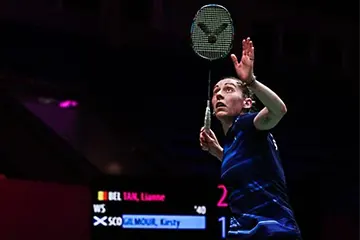 One of Scotland's best badminton players, Kirsty Gilmour, has shared that she received vile death and rape threats from gamblers after she lost to Gregoria Mariska Tunjung at the Swiss Open in Basel last week. Some even accused Gilmour of throwing her match. The 29-year-old reported the threats to the police and urged for more action to protect athletes from abuse.
Kirsty Gilmour Denies Match-Fixing Claims
Kirsty Gilmour told BBC Scotland that players have to deal with maltreatment and abuse from fans and gamblers on regular basis. She explained that such vile messages come from anonymous accounts and the people behind these accounts are most likely bettors who had lost money betting on the outcome of the match. Ms. Gilmour said that she often receives threats, but handling them does not get any easier.
The badminton player shared that the loss to Gregoria Mariska Tunjung was not that painful. But she added that if this had happened at a Commonwealth or Olympic Games after months of training, she would not handle it that easily. Ms. Gilmour elaborated that it is more offensive for her when someone criticizes her skills as a player. One of the latest messages she received even suggested that she fixed the match to earn some money.
Ms. Gilmour has confirmed that she has never been asked to lose the match, and she would never do it anyway as it's not worth the risk. The badminton player explained that her reputation matters more than earning easy money.
Measures to Prevent Players from Online Abuse
Last month, the Badminton World Federation (BWF) entered into a partnership with sports data company Stats Perform to investigate suspicious sports betting activity on badminton matches and protect the sport from match-fixing scandals. Under the agreement, the BWF will have access to various tools to monitor suspicious betting activity on major badminton matches.
Ms. Gilmour explained that she and a fellow player recently realized that they often think about the level of abuse they will take if something happens on the court. She added that if someone leaves an offensive comment under her posts, she reports them to Instagram. But she receives most threats through direct messages. The badminton player has expressed her concerns that the problem will continue. Ms. Gilmour added that many athletes experience abuse, and they have to live with it.
Badminton Scotland chief executive Keith Russell said that he knows about the vile messages that Ms. Gilmour has received and thanked all people who have supported her. He added that he is glad Ms. Gilmour shared her experience and gave publicity to the issue. He explained that Badminton Scotland does not tolerate online abuse and the players' well-being is of major importance to the national governing body.