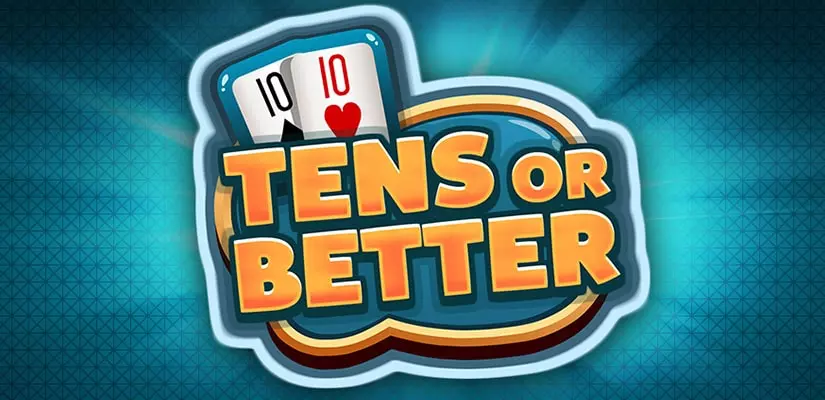 If you enjoy playing Jacks or Better, then you will also find Tens or Better to be entertaining. You can enjoy this video poker variation in many Playtech-powered online casinos. As the name of the game suggests, the lowest-paying hand in this variation is a pair of 10s. This means that players will have more chances to land a win and enjoy a fruitful gaming time.
With a simple design, Tens or Better is easy to play and yet ensures a fun time for players. While there are video poker variations which offer better odds, Tens or Better by Playtech is still a game worth playing.
Tens or Better Summary
Provider
Playtech
Hands
1
RTP
97.96%
Min Bet
$/£/€0.05
Max Bet
$/£/€25
Jackpot
N/A
Odds and RTP of Tens or Better
If you compare Tens or Better to Jacks or Better, you will notice that there is not a huge difference between the two games. In fact, if you take a look at the winning hands of both games, you will notice that the one dissimilarity is in the lowest-paying hand. With Jacks or Better, you have to have at least a pair of Jacks to receive a payout. Meanwhile, the lowest combination in Tens or Better that will ensure a payout is a pair of 10s.
While Tens or Better is a fun variation of video poker, it definitely offers worse odds than Jacks or Better. While the RTP of the former variant is 97.96%, the latter one offers a theoretical return of 99.54%. You may be wondering why Tens or Better has a lower RTP when it obviously offers more winning options with the pair of 10s being the lowest paying hand. While this is true, the payouts of Jacks or Better and Tens or Better are not completely the same. Since the house still needs some advantage over the player, the payouts for a Full House and a Flush are 6 to 1 and 5 to 1 respectively. Meanwhile, a full-pay version of Jacks or Better offers payouts of 9 to 1 for a Full House and 6 to 1 for a Flush. The extremely lowered payout for a Full House is what decreases the RTP on Tens or Better so much.
Considering the lower RTP, Jacks or Better is definitely a better choice but that does not mean that Tens or Better is not a good video poker variation. The fact that you can be paid even if you are holding a pair of 10s is definitely a great advantage of this game.
Additional Features of Tens or Better
The design of this video poker variation is very simple, allowing players to easily control their gaming experience. As this game is very similar to Jacks or Better, it is very easy to play and the winning combinations are pretty much the same on both of the games.
One can easily choose the bet they would like to make, using the buttons on the bottom part of the screen. There is an option that will hold automatically cards that may form a winning hand. This is very useful for those who are still learning how to play and are not sure what decision to make.
There is also another feature in Tens or Better which will allow players to double their winnings. Every time you land a win, the game will give you the chance to wager your winnings and either enjoy double the amount of half the double value of your prize. No matter whether you choose the "Double" or "Double half" option, you will open a bonus game where you will need to pick from 4 cards and beat the fifth one which is facing upwards. If the card you have chosen is of a higher value, then you will increase your winnings. After every successful increase of your payout, you can continue making this type of bet. You must be careful, however, as a fail in the bonus game will cost you all of your winnings.
Verdict
If you wish to switch up things, you can always try playing Tens or Better. This very simple video poker variation can be very rewarding. One of the best things about the game is that players will be able to receive a payout even if they are holding a pair of 10s. While the lower payouts for a Full House and a Flush lower the RTP of the game, Tens or Better by Playtech is still a wonderful game for fans of video poker.