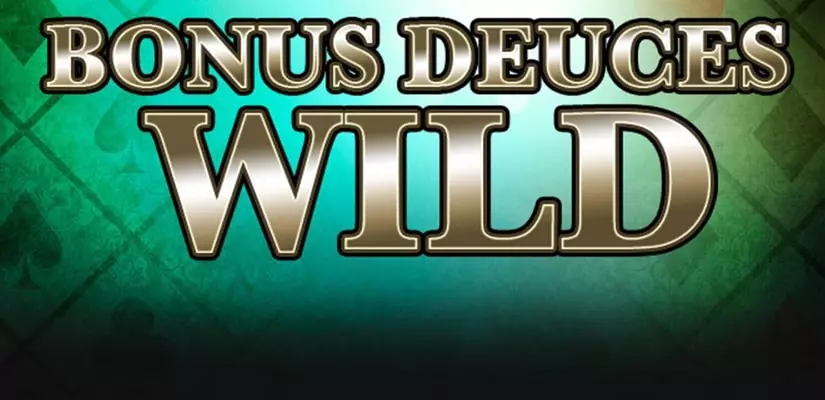 Bonus Deuces Wild is part of Microgaming's vast selection of video poker games and one of the more intriguing from the bunch. It goes without saying that Microgaming is one of the main providers of video poker in the online gambling industry and therefore, expectations for this title are high. Below, we will go into detail about the major features of Bonus Deuces Wild and give our honest feedback.
Bonus Deuces Wild Summary
Software Provider
Microgaming
Hands
1
RTP
99.15%
Minumum Bet
$0.25
Maximum Bet
$5.00
Jackpot
Royal Flush pays 5,000 coins at level 5
Odds and RTP of Bonus Deuces Wild
Playing Bonus Deuces Wild gives you the opportunity to score some nice rewards if luck is on your side. The payouts this game offers are certainly enticing and you will want to capitalize on it. As with all Deuces Wild variations, the minimum qualifying hand is a Three of a Kind, with an even-money payout. From then on, the next winning hand is a Flush which pays 3:1, followed up by the Full House and the Four of a Kind, both of which will net you 4:1. After that, we have the Straight Flush and by forming this hand, you will earn a payout of 8:1.
Following that, we have several different variations of Five of a Kind. Five 6s through Kings will pay 18:1, but if you manage to form Five 3s, 4s or 5s, you will be eligible for a 40:1 payout. The best possible Five of a Kind is made up of Aces and it offers a substantial reward of 80:1. Taking a step back in terms of rewards, the Wild Royal Flush will net you 25:1, considerably less than the previous hands. If you succeed in forming a Four of a Kind from Deuces, your payout will be 200:1, but if it also includes an Ace as the fifth card, the prize will go up to 400:1. Finally, the Natural Royal Flush carries the best payout of 800:1 when playing with 1 coin. Up to four coins, the payouts remain proportional, however, if you wager 5 coins, then the reward goes up from the expected 4,000 coins to 5,000 coins. This is the best-paying combination in the game and the one that you should hope for.
Based on these payouts, we can conclude that Bonus Deuces Wild offers an RTP value of 99.15%, which makes for a miniscule house edge of 0.85%.
Additional Features of Bonus Deuces Wild
Bonus Deuces Wild Poker has several features that you will be interested in since they have the ability to drastically improve your experience. The first and most obvious – the Deuces Wild. In this game, the 2s serve as Wildcards, as in, they can substitute for other cards and help you form winning hands. This is incredibly useful, as it will certainly increase the number of wins over the course of your gaming session.
Furthermore, you also have to take into account the Gamble Feature. Available after every win, you have the opportunity to stake your winnings for a chance to double them. This is done via a mini-game, which lays out five cards in front of you facedown. The first one is revealed and you need to select one from the remaining four. If your pick has a higher value than the game's card, you win your payout and double your winnings.
Verdict
Overall, Bonus Deuces Wild is an excellent video poker variation and we are sure that you will have a great time playing it. Microgaming once again does not fail to impress and you can easily see that the game is crafted with care and attention.