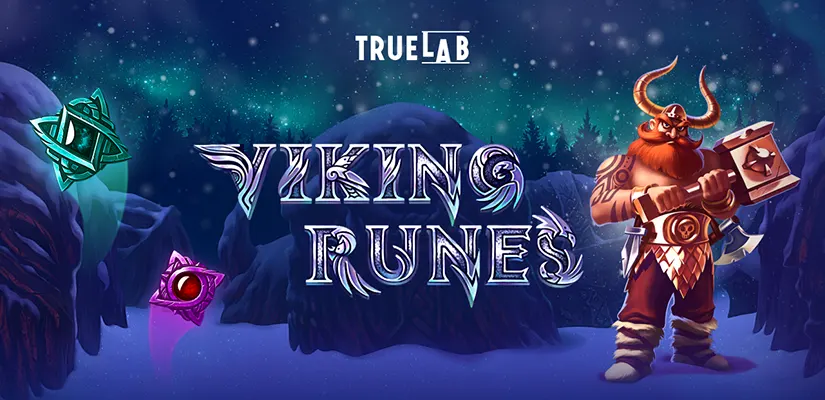 Under the Northern lights, players have the chance to unveil bountiful rewards by matching runic symbols in Viking Runes by TrueLab. This 9×9 slot will have different runic symbols fall and sometimes form clusters. Every time a cluster of six or more identical Celtic runic letters land on the slot, players will enjoy a win.
To ensure better chances of landing winning combinations, the slot has several special features that can be randomly triggered. Viking Runes is a high-volatility slot, which means that it may take quite a few no-win rounds until players finally hit a very generous payout. If you are impatient for the bonus feature of the game to be triggered, you can also buy the Free Spins option and instantly play for bigger wins.
Viking Runes Slot Summary
Provider
TrueLab
Paylines
Wins are awarded for clusters of six or more identical symbols
RTP
96.28% / 94.08% / 92.19%
Min Bet
0.4
Max Bet
400
Wild Symbol
Blue Wild, Green/Purple/Red/Yellow Lightning Wild
Scatter Symbol
N/A
Bonus Features
Cascading Clusters, Lightning Wilds, Runic Shuffle, Viking Sorcery, Spell of Ancestors, Bonus Buy
Jackpot
25,000x total bet
Symbols and Winning Combinations of Viking Runes Slot
Viking Runes will have you spin a 9×9 slot, with a Viking watching closely your progress in the game. Instead of having paylines or ways to win across adjacent reels, this slot will offer payouts whenever clusters of six or more identical symbols appear on the slot's grid. The game incorporates low-paying, mid-range, and high-paying symbols, all of which are inspired by Celtic runic symbols and letters.
The low-value symbols of the game include the runic letters Kanu, Berkana, and Othala, with all three of them appearing in muted purple colors. Any of the low-paying symbols can bring players 0.2x their bet for a cluster of six and 200x their stake when they land in a cluster of 41 or more.
The mid-range symbols of Viking Runes are represented by the letters Teiwaz, Mannaz, a variation of Othala, and Raidho, colored in green, purple, red, and yellow respectively. The green and purple letters will bring you 0.6x your bet when they land in a six-symbol cluster while matching them 41 or more times in a cluster will award 600x your bet. The other two mid-range symbols will pay 1x your bet for a cluster of six while landing them in clusters of 41 or more identical symbols will award 1,000x your bet.
The highest-paying icons in Viking Runes include red and blue Celtic symbols decorated with gems. The red one brings you 1.6x your bet for a cluster of six, while clusters of 41 or more red symbols will pay 1,600x your stake. The blue symbol will pay 2x your wager when it appears in a cluster of six identical icons, while a cluster of 41 or more symbols will award 2,000x your total bet.
This slot also incorporates regular Wilds as well as Lightning Wilds, all of which are represented by Celtic knots in different colors. The regular blue Wild appears randomly in the base game and can substitute for other symbols of the game. Lightning Wilds are green, purple, red, and yellow and can appear at random positions on the slot only after players land consecutive wins.
Bonus Features of Viking Runes Slot
One way to make the experience of playing Viking Runes more lucrative is by hitting some of the bonus features of the game. The regular Wild that appears in the base game randomly can help you form winning clusters. Every winning pattern on the screen will disappear from the slot's grid, allowing symbols above it to take up the empty space. That way, new winning clusters can form, further increasing your wins.
With every win, one of the Lightning Wilds on the right side of the screen will light up, prompting them to take up a random position on the slot. The maximum of Lightning Wilds that can be triggered with consecutive wins is 4, with special Wilds randomly changing their positions after every win. Lightning Wilds can appear both in the base game and during free spins.
After players get to five or more consecutive wins in a single spin, they will unlock the Free Spins feature of the game. The bonus game will start with six free spins, during which Lightning Wilds will be applied on every spin, applying multipliers, which can increase with every consecutive win during the free spins. Unfortunately, the bonus feature cannot be retriggered and it ends once all six free spins are used.
Players can opt for unlocking the Free Spins feature right away by pressing the Bonus Buy button on the right side of the slot. This feature will cost players 215x their bet and will instantly start the Free Spins game. While this is a risky bet, the bonus feature of Viking Runes can be extremely generous, with the top payout of the game being capped at 25,000x the total bet.
Runic Shuffle is the other special feature of the slot, which can randomly be triggered and change the positions of all symbols on the screen. That can easily turn a losing spin into a winning one, causing a series of winning clusters. Runic Shuffle can be triggered in the base game as well as during free spins.
Spell of Ancestors is yet another bonus feature that can be triggered whenever there is a cascade win. If this feature is activated, it will turn all low-paying symbols into the same symbol, giving better chances of landing winning clusters. This feature can also be triggered during both the base game and free spins.
The special features of Viking Runes do not end here, with the slot also having the Viking Sorcery bonus option, which can drop 3 to 9 additional Wilds per a cascading win. This can further boost the winning combinations in both the base game and during free spins.
Verdict
Viking Runes offers casino gans a fun slot experience, with winning clusters often bringing generous payouts. The several special features of the game can additionally boost one's win, with the top prize of the slot being capped at 25,000x the bet size. Viking Runes is a high-volatility game that can have you wait longer for a win but can also end up being extremely generous with its payouts.