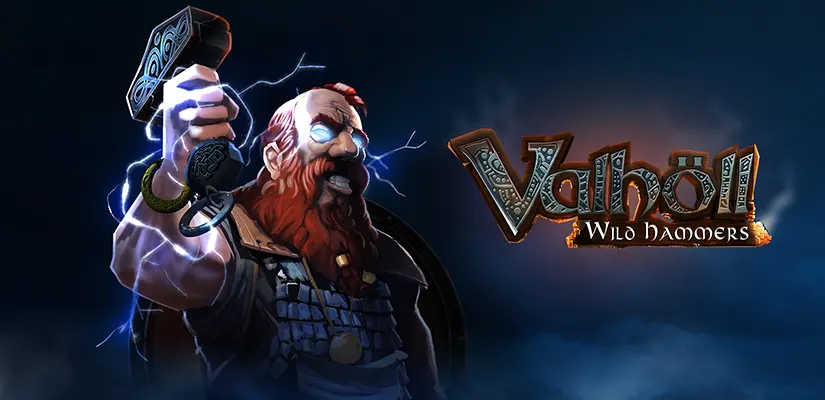 Norse mythology has become a popular source of inspiration for plenty of modern games of chance, and Lady Luck Games' Valholl: Wild Hammers is an excellent example of just how much this theme can contribute to the look, gameplay, and excitement factor of a slot.
Seeing as Valholl: Wild Hammers is available internationally, players are able to play the game in various languages, including but not limited to Greek, Italian, English, and Swedish. The slot also passes with flying colors in terms of mobile compatibility thanks to the fact that it is an HTML5 game, which ensures that it can be played on Android and iOS devices.
Valholl: Wild Hammers Slot Summary
Software Provider
Lady Luck Games
Payline Number
20
RTP
88.5% – 96.1%
Minimum Bet
0.2
Maximum Bet
100
Wild Symbols
Hammer
Scatter Symbol
Hammers
Bonus Features
Wild Lightnings, Loki's Mischiefs, Wild Hammers Free Spins, Gamble
Jackpot
17,000x
Symbols and Winning Combinations of Valholl: Wild Hammers Slot
Valholl: Wild Hammers is a slot that has a 6-reel, 4-row layout, and there are 20 paylines in total. In order for symbols to form a winning combination, the sequence of icons must start at the left-most reel.
As established, Valholl: Wild Hammers' aesthetics and mechanics are based on the Vikings and Norse mythology in particular. The low-paying symbols feature various shields, all of which grant players a payout of 10x bet per line when 3 copies of the same symbol land on the reels.
The symbols that follow are all illustrations of some of the most famous Norse gods, starting with the goddess Freya, who has a payout of 20x bet per line whenever you see 3 copies of her icon on a payline.
The icon that follows is Loki, who will leave you with 40x bet per line if a 6-reel pattern is formed on a payline. Next is the mighty Thor, with a payout of 60x bet per line for 6 copies, and finally we have his father, Odin. The god of war is the highest paying symbol in this slot, and if a 6-copy payline win is achieved, a player receives a value of 100x bet per line.
The wild symbol in this game is Thor's Hammer, and apart from substituting for all other symbols, it has the same payout as Odin but only if you see 6 wild icons on the reels.
The final symbols are the two hammers. Although they do not appear in the reels along with the rest of the symbols, these two icons technically play the role of the Scatter and are the key to most of Valholl: Wild Hammers' bonus features. Depending on which reels they land above, the hammers can trigger Wild Lightnings, Loki's Mischiefs, or the Wild Hammers Free Spins.
Bonus Features of Valholl: Wild Hammers Slot
Almost all of Valholl: Wild Hammers' extra features revolve around the hammers that appear on top of the game's reels, and the bonus you receive depends on their exact position. When both hammers land on the same reel, for instance, this initiates the Wild Lightning feature, and all of the said reel's symbols are turned into Wilds.
Next, we have the feature dubbed Loki's Mischief. This feature is triggered whenever the hammers land on reels that are adjacent to one another, and the game will then pick two symbols from the reels in question at random. Either the Wild or the icon with the highest payout will be chosen, and it will replace the lower-paying symbol on all reels.
It is also possible for the hammers to end up above reel 1 and reel 6, and this grants players 10 free spins and initiates Valholl: Wild Hammers' free spins mode. During this bonus game, the hammers will hit random symbols on the reels and convert 1 or 2 icons into Sticky Wilds. This will happen during each free spin, and whenever a Wild is hit multiple times, it gains a multiplier. The more time a single wild symbol is hit, the higher its multiplier becomes.
If you are not very patient and would prefer to enjoy these extras immediately, you can choose to buy them. There is a Buy Bonus button under the reels, and it lets you purchase either Loki's Mischief or Wild Lightning bonuses or the Wild Hammer Free Spins game mode.
As we suggested earlier, there is an exception, that is, a bonus feature that is technically not connected to the hammers. This is Valholl: Wild Hammers' Gamble, and it is available every time you land a win that is less than 100x your bet.
During this mini-game, you can gamble the winnings you got from that spin. The game itself is simple. A card symbol has been painted on a rock, but it is facing away from you, and you need to guess the color or suit of the said symbol. If you choose to gamble on the color and your guess is correct, the winnings you had put at stake will be doubled. If you win by wagering on the suit, your money will be quadrupled. In either case, you can choose to collect your winnings and go back to the base game or continue gambling up to 3 more times. If you lose, you will part with your stake and have no choice but to return to the base game.
Verdict
Valholl: Wild Hammers is a slot that is quite impressive in terms of how novel the gaming experience feels. There is something for pretty much all slots lovers out there, from free spins to sticky wilds, extra games, and multipliers. The game is gorgeous to boot, and the interface is quite snappy, making it easy for players to enable Turbo Play and Auto Play if they wish.