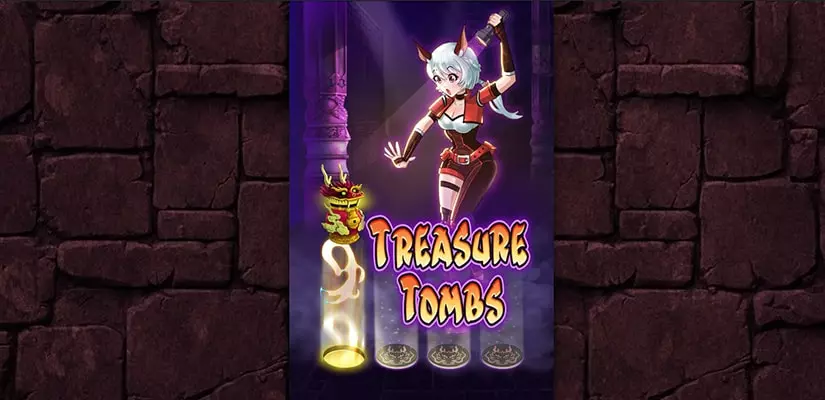 If you enjoy playing slots but you are ready to try something different, you can rely on the games powered by Bunfox. For those who enjoy the suspense of not knowing what you will win, Treasure Tombs is a great game.
This pick-a-prize type of game will allow you to choose from several chests and accumulate great payouts by getting Relics. This is a low-volatility game, which means that you can enjoy small payouts very often but the good thing is that you will not be required to make bets that are way too risky. With a special feature that allows you to assemble high-paying Relics, Treasure Tombs is a game that is worth your attention.
Treasure Tombs Slot Summary
Provider
Bunfox
RTP
97.22%
Min Bet
0.1
Max Bet
5
Special Symbols
Relics can offer good payouts when they are revealed or forged.
Bonus Features
As you collect Relic Fragments, you can use them to assemble Relics.
Jackpot
N/A
Symbols and Winning Combinations of Treasure Tombs Slot
You will have different types of symbols that may bring you pretty good rewards while you are revealing the prizes in different treasure chests. You can either find a Relic or assemble it from different Relic Fragments.
You can find a Handful of Gold Coins in the chests of Treasure Tombs and they will award 0.1x your bet. If you reveal a Pouch of Gold Coins, you will enjoy even better payouts and will receive 0.2x your bet. While playing Treasure Tombs, you can reveal several types of Relics, each of which will offer a different type of payout.
The Uncommon Relics are the green ones and if you find them, you will enjoy a payout of 0.5x. Next are the Rare Relics which have a blue color and when they appear from a chest, they can offer a payout of 1x your bet. The Epic Relic is a pig in gold and purple which will award 5x your bet. Lastly, you will have the red Legendary Relic which will pay 20x your bet.
As you collect Relic Fragments, you can choose to forge a Relic and receive a generous payout if you forge it successfully. The different colors of gems will assemble a specific Relic with the green one being the less rewarding and the red one paying out the most.
Bonus Features of Treasure Tombs Slot
While Treasure Tombs is fun on its own, its special feature that will allow you to forge Relics is even more exciting and can be very rewarding. As you play the base game, you will see that even when you do not land a win, the Relic Fragments that you have revealed will be collected in an inventory below the treasure chests.
These unused Relic Fragments will help you in your attempts of forging Relics. You will see a button with a hammer symbol which will be located across the fragments you have been collecting each round. If you press that button, you will open the Forge and will be able to pick 3 identical or different Relic Fragments in an attempt to assemble a rare Relic. For each attempt, you will make a bet and win if the Relic is forged successfully.
Depending on the type of Fragments you use, you will have the chance to assemble 4 different Relics. The first one is a green Uncommon Relic which will pay out 5x your bet if it is assembled successfully. The next Relic is the blue Rare one which pays 10x your bet when it is forged. Thanks to purple Fragments, you can assemble an Epic Relic which pays 20x your bet when it is forged. If you succeed in assembling the red Legendary Relic, you will enjoy the highest payout of 50x your bet.
Our Verdict
Treasure Tombs is a fun game that many players will appreciate as they can often enjoy decent rewards. Of course, with the special feature of forging Relics and the opportunity to find a Relic in the base game, one's chances of better rewards are increasing. If you are looking for a type of gaming entertainment, you should definitely give Treasure Tombs a try.