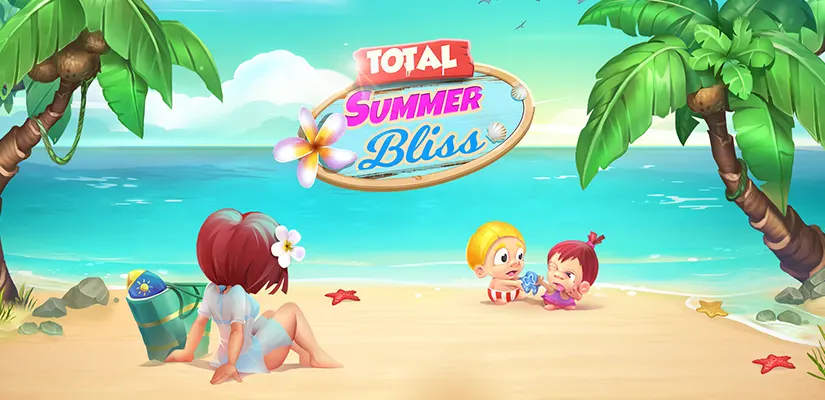 If you have been itching for an escape from the hustle and bustle of a busy daily work life, Total Summer Bliss can transport you to a bright and sunny beach where lots of summer accessories and treats may grant you lucrative wins.
The slot was released in 2021 by esteemed software provider Lady Luck Games. Players have the choice to play with either 5 or 15 paylines, and Total Summer Bliss is available in over 10 languages. This means that individuals from Japan, the UK, Denmark, and more, will be able to enjoy what this game has to offer in their native language.
Total Summer Bliss Slot Summary
Software Provider
Lady Luck Games
Payline Number
5 – 15
RTP
88.0% – 95.9%
Minimum Bet
0.05
Maximum Bet
90
Wild Symbols
Wild
Scatter Symbol
Free Spins
Bonus Features
Lucky Wave Free Spins
Jackpot
650x bet
455x bet
Symbols and Winning Combinations of Total Summer Bliss Slot
As one might guess from its name, Total Summer Bliss is a slot that features a character who is relaxing on the beach. The symbols follow this theme, and this is evident even when we look at the classic card value symbols, seeing as they are stylized with bright colors and a wooden texture, much like the signs you can spot at various summer destinations. These card illustrations are this slot's low-paying icons.
If you have selected 15 paylines, all of the symbols from 10 to Ace grant players 5x bet per line whenever a 3-reel winning combination is formed, but players should keep in mind that the payouts are different when it comes to bigger combinations. If you get 5 copies of 10s, Jacks, or Queens, the payouts will be 30x, 40x, and 50x bet per line, respectively. The King icon pays out 60x bet per line, and, finally, the bet per line payout of Aces is 70x for a 5-reel win.
The next set of symbols is unique, and these icons are this slot's high-paying icons. The first such icon is an ice cream bar that grants players a value of 140x bet per line if the individual in question has selected 15 paylines. Next, we have two classic examples of summer-times accessories, the first of which is a pair of fashionable sandals. This symbol boasts a payout of 180x bet per line. The other accessory is the beach hat, and if players manage to land a 5-reel win with this symbol, they will net winnings of 250x bet per line.
The symbol that follows illustrates Coconut Water, a staple at beach-side restaurants. The payout of this icon is 350x bet per line. Last but certainly not least, we have the Seashell symbol, which happens to be Total Summer Bliss' highest paying symbol, as it can net a win the size of 500x bet per line.
Apart from its ordinary symbols, Total Summer Bliss also has a scatter symbol dubbed Free Spins. As you might have guessed, this Scatter is what initiates the Lucky Wave Free Spins mode. There is also a Wild symbol, and its role is to substitute for all other symbols, excluding the Scatter. The Wild also has a 5-reel payout that is the same as what you would get for 5 copies of the Seashell icon.
Bonus Features of Total Summer Bliss Slot
In general, Total Summer Bliss does not have much to offer in terms of extra features, especially when it comes to variety. There is an extra bonus that players will appreciate, however, and that is a mini-game where you receive free games.
The slot's free spins mode is aptly named Lucky Wave Free Spins, and it is triggered whenever a fortunate player manages to land three Free Spins symbols on the reels. When this occurs, a gaming enthusiast will be greeted with a friendly looking fish that will show them that they have won 5 free spins. Then, all of the reels will be covered by a wave, and a number of Sticky Wilds will be washed ashore.
These Wilds are sticky in the sense that once they are on the beach, they will not move throughout the duration of that specific free spin. Once their respective free spin is over, however, the Sticky Wilds will disappear, and they will be replaced by new ones as a wave covers the beach once again.
As for the base game, you may also come across Wilds during regular gameplay. Although these Wilds are not sticky, they will still contribute to more generous wins and will generally make playing even more exciting.
We should also mention that the interface of Total Summer Bliss performs quite well. Players who wish to enable the Auto mode can easily do so. In addition, clicking the Turbo button will make spinning the reels very fast, and this button is located right next to the payline options on the layout. If you are fond of speedy gameplay, this is an excellent mode to take advantage of.
Verdict
Colorful and bright, Total Summer Bliss has managed to capture how fun yet relaxing a summer vacation can be. The slot's gameplay is classic for the most part, so you will not come across a variety of modern features, but you will be able to take advantage of free spins whenever Lady Luck pays you a visit. Players on the go will also be happy to know that Total Summer Bliss is mobile-friendly.