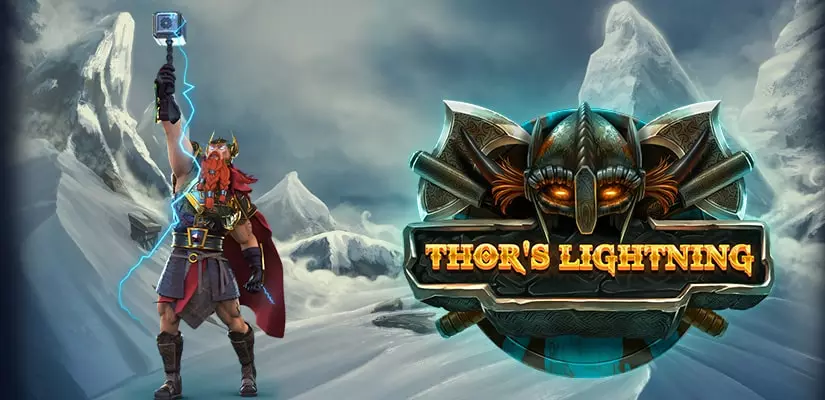 Thor's Lightning is one very interesting and unconventional slot by Red Tiger Gaming. Instead of forming the winnings on active paylines, players will earn payouts if there are clusters of symbols. The slot is comprised of 7 reels and 7 rows and there are 9 inactive blocks in the middle of the slot.
Thor, who is the main character of the game, unlocks every bonus feature in the game. Speaking of bonus features, there are plenty of special options which can be randomly activated and award players with very lucrative gaming experience.
Thor's Lightning Slot Summary
Provider
Red Tiger Gaming
Paylines
Players win when there are clusters of symbols.
RTP
96.00%
Min Bet
£0.10
Max Bet
£100.00
Wild Symbol
There is a Wild symbol which can substitute all other paying symbols.
Scatter Symbol
There are no Scatter symbols.
Bonus Features
Thor activates all bonus features which include Lightning, Hammer, Valhalla Free Spins, Muspell Free Spins, Lava Shower, Lava Flow.
Jackpot
N/A
Symbols and Winning Combinations of Thor's Lightning Slot
As the name of the slot suggests, the theme of the game is based on the god of thunder of the Norse mythology. This is why the symbols of the game are also inspired by Thor and various Viking items with special meaning.
For the low-paying icons, you will have stone blocks with various Viking symbols on them. You will enjoy a payout if you land a stack of at least 5 of the same symbols. The highest payouts you would enjoy thanks to the low-paying symbols are achieved by stacks of at least 30 identical symbols.
The high-paying symbols of Thor's Lightning offer much more generous payouts but their maximum can be snagged only if you land stacks of 40 identical symbols. Among the high-paying images, you will notice other Norse symbols like a raven, a wolf and a tree. The highest-paying symbol is dedicated to Thor's hammer and can reward the amazing payout of 500x if you land a stack of 40 hammers.
You will also notice that there is a Wild symbol which can replace any of the other paying symbols in the game. This will allow you to form winning stacks much easier. In addition to this special symbol, there is also a 3×3 Free Spins symbol in the middle of the reels. If you manage to unlock it, you can trigger the Free Spins features.
Bonus Features of Thor's Lightning Slot
One of the great qualities of Thor's Lightning is that Thor can trigger various bonus features that can make the game a lot more riveting and rewarding. As it was mentioned earlier, there is a giant 3×3 Free Spins symbol in the middle of the slot. If you manage to crash clusters around all sides of this symbol, you will activate either the Valhalla Free Spins feature or the Muspell Free Spins one.
During the Valhalla Free Spins, there will be only Golden Shields spinning on the reels. They will drop down the reels and a random number of them will stick so that they will form clusters after the last spin. Thanks to the collected Golden Shields, you will enjoy a random multiplier which will significantly boost your winnings.
Meanwhile, if you trigger the Muspell Free Spins, you will enjoy free spins with only high-paying symbols. There are also two features that can be randomly triggered while the Muspell Free Spins are activated. The first one is Lava Shower which will randomly destroy one or more symbols of the same type and will reward free spins. The other feature that can be triggered during the Muspell Free Spins is Lava Flow which will create the same symbols so that it can connect stacks and contribute to higher payouts.
Thor can also trigger randomly other of the slot's features. One of them is Lightning which will either destroy all low-paying symbols or transform random tiles into symbols of the same type or into Wilds. The other feature that can be randomly triggered is Hammer. It will remove random 2×2 symbols and replace them with higher-paying ones. Thor's hammer can also nudge reels or rows which will lead to forming winning combinations.
Verdict
If you decide to play Thor's Lightning, you will revel in a very thrilling gaming adventure. The different method of stacking winnings is extremely fun and refreshing. In addition to that, the game has plenty of bonus features which will make your game a lot more exciting and possibly fruitful. This unusual slot by Red Tiger Gaming definitely deserves your attention.