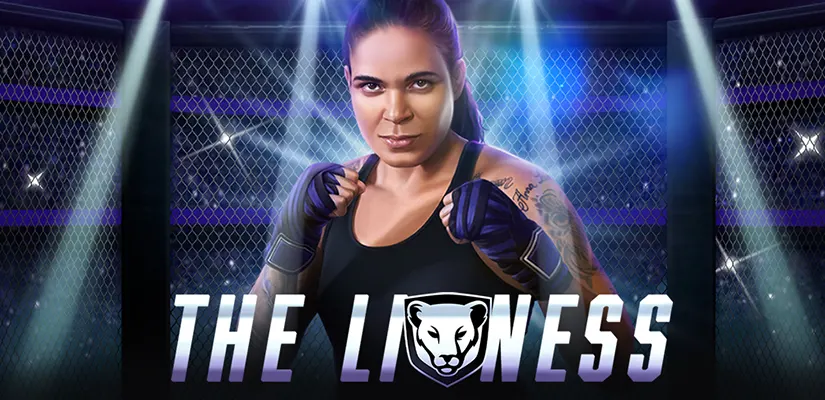 Due to the popular themes on which they are based, licensed online slots have become a sought-after category in the gambling industry and have gained a large fan following. Branded titles provide all of the fun you would expect from a traditional slot game, but with a theme based on your favorite TV show, music band, celebrity, etc. While at the beginning of their emergence, such casino games were mainly inspired by pop and rock stars or TV shows, recently, software developers have been cooperating more and more often with famous athletes.
In late summer 2022, Armadillo Studios introduced The Lioness with Amanda Nunes slot in collaboration with the famous UFC fighter. This is a medium-volatility casino game with bets within the range of $0.2 – $100 and an RTP of 93.79%.
The Lioness with Amanda Nunes Slot Summary
Provider
Armadillo Studios
Payline number
40
RTP
93.79%
Minimum Bet
$0.20
Maximum Bet
$100.00
Wild Symbols
N/A
Scatter Symbols
Lioness Scatters, Champion Scatters, Free-spin Scatters
Bonus Features
Free Spins, Fight Feature, Fortune Bet, Lioness Link Bonus
Jackpot
1,000x total bet
Symbols and Winning Combinations of The Lioness with Amanda Nunes Slot
The Lioness with Amanda Nunes, is a 6-reel, 4-row video slot with 40 paylines. Wins are awarded for three-of-a-kind or greater combinations along paylines on adjacent reels, beginning with the leftmost one. There is no Wild symbol, but there are as many as three types of scatters (Lioness, Champion, and Free Spins) that activate different bonus features. Furthermore, the Champion scatters, which are three Amanda images, pay as regular symbols too. Their multipliers start at 0.2x for a triple combination and 0.75x for a 6-fold combination of matching symbols.
The medium-level payers in this Armadillo Studios slot title are Amanda's gloves and her punching bag. If you manage to land the maximum possible 6-of-a-kind combos on one of the 40 paylines, your stake will be multiplied 0.5 and 0.4 times, respectively. We understand that this does not appear to be a lucrative opportunity, but in the following paragraph of this The Lioness with Amanda Nunes slot review, we will explain how you can significantly increase the amount of your potential profit.
Even though this slot is unique, it still contains card symbols, as do many other titles in this genre of casino games. The 10, J, Q, K, and A signs have modest, to say the least, multipliers ranging from 0.05x to 0.25x.
Bonus Features of The Lioness with Amanda Nunes Slot
Both the soundtrack and the visual effects, as well as the bonus features, are fully in line with the theme of the slot. We will start with the Fight feature which is activated in case you hit one of the three Amanda symbols in a stack of minimum 3 adjacent columns and this leads to a win. The fighter is just waiting for that. Immediately after triggering, Amanda will perform additional attacks and increase the current gain by a random multiplier. Its size depends on the number of stacks hit within the Fight feature. For 3 full stacks you will pocket between 2 and 4 times the wagered amount while if you land 6 full stacks, you may receive a bet multiplier of up to 7x.
Anyone interested in MMA knows how hard Amanda Nunes can land. But with your help and the Fortune Bet functionality, she can become even more ruthless. If you increase your stake by 30%, Amanda will feel a surge of energy and the multipliers within the Fight feature will be boosted to 3x-9x. This feature can be triggered at any point in the game.
We come to the next type of scatter symbol – the Lioness. Four or more of them anywhere on the reels activate the Lioness Link Bonus, which is practically a hold 'n' respin style feature. The bonus symbols stick on their places and you have 3 initial re-spins to fill the empty spots with other lionesses. The number of spins is reset each time a new bonus symbol shows up. Players can hit Standard Lioness Scatters (1x-10 multiplier) and Mini, Minor, and Major Jackpot Scatters worth 20x, 50x, and 100x your stake.
The Lioness Link Bonus stays active until there are spins to be made or until all 24 positions are filled with Lioness symbols. If the latter happens, you will benefit from the Grand Prizepot which is 1,000 times your bet. The best thing is that if you have accumulated other wards within the bonus duration, they will be paid too. The Mini, Minor, and Major prize pots can be awarded several times.
Do not rush to leave, we are not done with the scatters, let alone the bonus features. If you manage to land 3 Free Spins Scatters on the reels, you will have the chance to spin the reels 5 times at no cost. What is specific here is that the Amanda Nunes symbols are frequently appearing and thus you have a strong chance of triggering the Fight Feature. The collected multipliers will remain active throughout the feature, giving you the opportunity to win some massive payouts.
In some jurisdictions, a Buy Bonus feature is also available. For 32x your bet, you can start the Lioness Link Bonus without any waiting time. Quite a high-priced feature, but if you hit the Grand Prizepot, it will be worth it for sure.
Verdict
The Lioness with Amanda Nunes slot is visually stunning and definitely a must-see for the UFC star fighter fans. Its only downside is the relatively poor RTP of 93.79%. On the other hand, it comes with a great atmosphere, a lot of gaining bonus features, and a 1,000x total bet jackpot, which are all factors on the positive side.