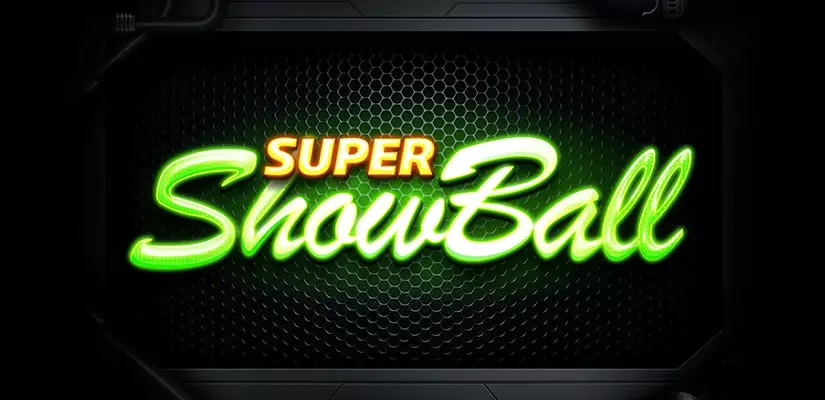 As long as bingo engages your attention, it might not take much time to persuade you to try your hand at Super Showball. The game is a collaboration of Microgaming and Neko Games, and does not have much to do with slots in their classic form. Instead, it is based on 90-ball bingo games, and it is likely to cause a stir among players because of the jackpot they will stand the chance to win.
The Mystery Prize bonus feature is likely to keep the engagement of players up as well, especially when one considers the maximum prize of 11,000x the amount staked per ticket. Not to mention that from time to time, players will be offered free balls, which further adds up to the thrill.
Super Showball Slot Summary
Software Provider
Microgaming
Paylines
There are a total of 9 patterns that bring payouts
RTP
94.04% in the base game
Min Bet
$0,10 per ticket
Max Bet
$10 per ticket
Wild Symbol
N/A
Scatter Symbol
N/A
Bonus Features
Mystery Prize, Extra Ball feature, and free balls
Jackpot
4,000x the chosen bet value
Symbols and Winning Combinations of Super Showball Slot
It does not take much time to notice that Super Showball does not bear much resemblance with slots as instead, it has much more in common with bingo and keno games. The win patterns are among the first things players might notice when they load the game. The cage that is reserved for the additional ball and the double cage where the rest of the numbers are exhibited are positioned right below the patterns.
While availing themselves in Super Showball, the maximum number of tickets players are permitted to purchase is four, and each of them contains 15 numbers, meaning that there are 60 numbers in total in the game. When a new round begins, 30 numbers will be picked up. The numbers that are displayed on the balls go 1 through 90. So as to change the numbers in the enabled ticket, players will be required to click on the ticket itself.
Yet, if they prefer, players can seize the opportunity to purchase up to 11 additional balls, but what they should be mindful of is that obtaining an extra ball comes at a cost.
The payouts players will collect will be determined by the specific winning pattern, which is formed on the enabled ticket. Scoring multiple wins per ticket at the same time is accomplishable, provided that the patterns that are formed are completely different.
The win patterns are a total of 15, with the most rewarding ones being the Full Card, Vault, Safe, Coin Hopper, and Double Line.
Furthermore, players might notice that some of the numbers in their tickets glow in orange or yellow, which should hint them that these numbers are "candidates". This will indicate that if the specific numbers show up, a winning pattern will be formed. The prize players can potentially bag if the number comes out will be displayed within the box of the number.
Bonus Features of Super Showball Slot
Players will be up against the Extra Ball Stage, provided that the first 30 numbers are drawn, and there is a candidate that has the potential to make for a payout that is worth 8x the staked amount. When this mode is turned on, players' chances to score a win will be boosted significantly as they will be allowed to purchase extra balls as well.
As soon as the Extra Ball Stage is kicked off, players might be offered a mystery prize. Yet, this can happen only if there are not disabled tickets, and players have purchased an additional ball. Whenever the Niko Cat enters the screen, players can expect to get a Diamond, Gold, Silver, or Copper mystery prizes that have different values ranging between 10x and 11,000x the amount players have put on a stake.
When the Free Ball sign pops up on the screen, players should be prepared to receive additional balls that come at no cost.
As likely as not, Super Showball's jackpot is what might keep players on the edge of their seats all the time. The prize they can potentially bag is worth 4,000x the chosen bet value, and it will fall, provided that all 15 numbers from one of the tickets have appeared during the initial draw. Players will qualify for the jackpot, on condition that they have not disabled any of the four tickets.
Verdict
As it turns out, Microgaming has been looking to diversify its gaming suite of recent, and Super Showball is one of the most recent creations it introduced to the public. This game stands out as a change of pace because it is nothing like slots. Super Showball is easy to play and has a huge winning potential, which certainly renders is it a worthwhile option.