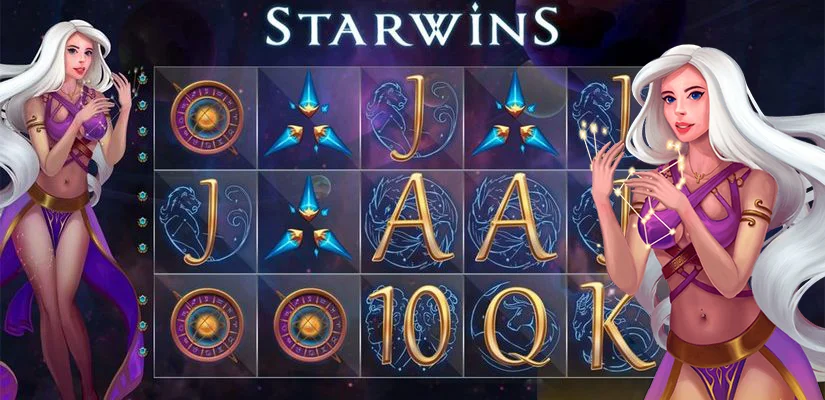 Those for whom the aesthetic design of slot games is an important element will surely like Starwins. The title released by MancalaGaming in March 2021 provides high-quality artwork and comes with 5 reels and 10 paylines. Players can try the bonus game where they must choose between two characters and multiply their bet up to 32 times.
The slot's title reflects the main theme of the game, namely astrology. Among the slot symbols, you can find zodiac signs, card symbols, planets, wilds, etc. Players can first try the game for free in the demo mode and then for real money.
Starwins Slot Summary
Provider
Mancala Gaming
Payline number
10
RTP
95%
Minimum Bet
1 credit
Maximum Bet
90 credits
Wild Symbols
Question mark
Scatter Symbols
X2 scroll
Bonus Features
Multiplier Bonus Game
Jackpot
24,064 x your bet
Symbols and Winning Combinations in Starwin
Starwin provides nine regular symbols as for each of them, the minimum winning combination is 3 identical symbols. Paylines pay both from left to right and right to left.
The triangular sun clock is the symbol with the highest value and its payout is as follows – 5x your bet per line if you land on three matched symbols, 15x your bet per line if the combination is 4-fold, and 150x your bet per line if the combination is 5-fold. Next in value is the floating planet whose payout is 50x your bet if you are lucky to come across 5 matching symbols. The triple and quadruple combination will multiply your bet by 1.5 and 5, respectively.
The combinations of 3, 4, and 5 identical Q, J, and 10 symbols have payouts of 0.2x, 0.5x, and 2.4x the original bet per line. These are also the symbols with the lowest value. As for the so-called mid-level symbols (K, A, a circular compass, and a blue triangle), their 5-fold combinations will multiply your bet x5, x5, x7.5, and x20.
Players have at their disposal a wild symbol, which looks like a shield with a big question mark in the middle. It can substitute every other symbol except for the bonus game one. Unlike other slots, Starwin's wild does not expand and does not have any other special function.
Bonus Features of Starwin
When you land on a winning combination, the symbols explode and are immediately replaced by a new set of symbols that can possibly create a new win from the same spin. The symbols cascade until no more wins are possible.
The thing that surprised us while exploring and trying out the slot is that there is no free spins feature. Not that its absence is something unseen in the field of slot games, but we did not expect to see it in a title offered by MancalaGaming, especially having in mind its other titles Portal Master, Mancala Quest, and Crystal Mine.
The goal of the developers likely was to create a unique and distinctive slot and this intention was reflected most apparently in the bonus game. The scatter symbol provided within Starwin is a special x2 scroll whose function is to activate the bonus multiplier game. Let's take a look at how it goes.
There is no restriction regarding the scatter symbol, it can appear on any of the reels. Before each round of the bonus game, you must choose between two characters, the Goddess and the Demigod.
Each successful guess takes you to the next round, where again you have to choose between the same two options, but in case of success, your reward will be higher. Starting from the first round, your bet will be multiplied 2, 4, 8, 16, and up to 32 times if you manage to guess the winning character. If your choice loses, you will have to say goodbye to your bet. The good thing is that you can opt out of the bonus game after each of the rounds and thus reduce your risk of losing.
Verdict
Starwin is another title in the MancalaGaming portfolio that features a visually appealing layout and a reasonable betting range. The RTP is around the average for this area – 95%. The developers have created a game that is equally suited for a desktop computer, tablet, or another mobile device, without restrictions on the type of operating system.