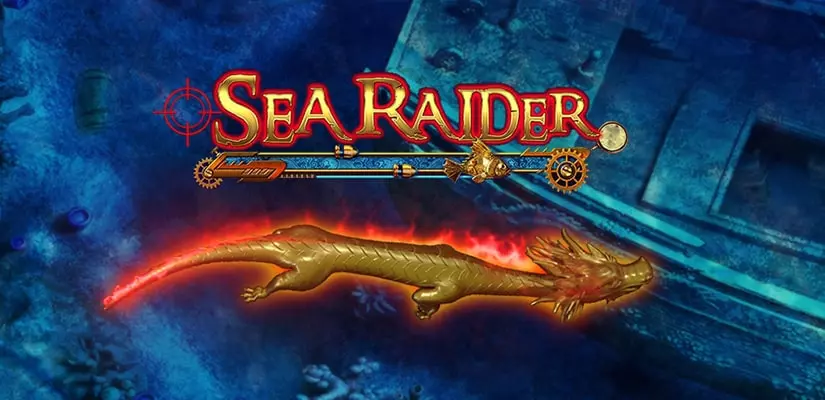 When it comes to online casino games, we most often imagine something along the lines of slots or table games. However, every now and then, something rather unique comes along that does not fit into any established category. Sea Raider is one such title. Developed by Genesis, Sea Raider is reminiscent of early 2000's flash games, rather than modern casino titles. It puts the player in the shoes of a diver seeking treasure in the ocean. Treasures are found by capturing fish and other underwater entities. This game is so different from everything else available in the iGaming scene and in this review, we will take a good look at what makes it tick.
Sea Raider Summary
Software Provider
Genesis
Payline Number
N/A
RTP
96.78%
Minimum Bet
$0.10
Maximum Bet
$10
Wild Symbol
N/A
Scatter Symbol
N/A
Bonus Features
Timed Rewards, Multiple Levels, Special Objects, Extra Rewards
Jackpot
N/A
Symbols and Winning Combinations of Sea Raider
Sea Raider is played in regular sessions, set with a maximum time frame of 15 minutes. You shoot a gun and when the bullet reaches its target it will release a net. Each shot will cost you a number of coins, which you can adjust at will. The denomination of coins include 1, 2, 5, 10, 25, 50, and 100 and each coin is valued at $0.10 or other currency equivalents.
Shots are fired by pressing on the screen and moving the gun. If the bullet reaches the edge of the screen, it will bounce back in the opposite direction until it hits something. Some fish take more than one shot to be captured and you will earn a payout based on the cost of the capturing shot. Each fish, clam, chest, etc. comes with its own payout ratio. Moreover, the targets in the game are separated by categories of importance and appearance.
There are seven creatures and objects that appear at every stage of the game. Most of the time, they provide small rewards meant to maintain your bankroll rather than increase it significantly. That is not to say that you cannot profit from them, however. The Turtle and the Pearl will pay x20 and x25, respectively, once captured. The Chest does not offer precise rewards, rather it will pay anywhere between x10 and x100 when you capture it.
Other creatures will appear during specific levels of the game. For the moment, we will only cover the basic creatures. During Level 1, the notable creatures that will appear are the Blue and Red Fish. These will pay x10 and x20, respectively.
On the Second Level, you should aim for the Multi-Colored Fishes and the Swordfish. The Multi-Colored Fishes will pay x7 or x9 the capturing shot. As for the Swordfish, it will pay a substantial x20. Finally, the Third Level features two high-paying fish types. Namely, the Hogfish will pay x35, whereas the Anglerfish offers a great x50 reward.
Bonus Features of Sea Raider
The primary feature of Sea Raider is that you advance between the different levels, which brings in better reward opportunities. You begin on Level 1 and as you shoot fish and other objects, you will earn rewards. However, you need to advance to the Final Level to get to your ultimate objective – the Treasure. You move from one level to another by collecting 5 Pearls. Of course, you have to do all of this in the allotted time frame, which is 15 minutes.
Additionally, as you descend from one Level to the next, you will encounter a Mythical Creature. These are large titans of the sea and they offer incredible rewards if you capture them. The Charybdis is a large crab and it will come between Level 1 and 2. If you succeed in taming the Carybdis, you will get x100. From this point on, the rewards become even better. For instance, the Octavius comes in after Level 2 and those with the skill to capture it will benefit from a x200 reward. Last but not least, the Ancalagon will appear after you complete the Third Level and you will earn a massive x500 payout for capturing it. It is important to note that each of the Mythical Creatures is surrounded by smaller fish, thus further increasing your win potential.
Aside from the Mythical Creatures, there are other Special Creatures that will appear on the screen from time to time. These have a special function when captured which will work in your favor. For instance, the Hammerhead Shark will appear during Level 1 and it will eat surrounding fish. If you capture the Shark, not only do you get its base payout, but also that for all the fish it ate.
Level 2 features the Electric Eel and it is accompanied by smaller fish. When you capture the Eel, it will also electrocute the surrounding fish, providing you with their combined payouts. Finally, Level 3 includes the Bomb. This is perhaps the only object in the game that does not have a payout of its own. However, if you shoot it, the Bomb will explode killing all fish in its proximity. As you can already guess, you receive the payout for each fish caught in the blast radius.
Our Verdict
Sea Raider is best characterized as simple in ideas but deep in features. Anyone can start playing this game even without a basic understanding of it. However, there is a certain element of skill required to line up shots properly and that will no doubt increase your enjoyment of this game. It is worth pointing out that Sea Raider is nothing like any other casino game out there, therefore, we have little to judge it against. We can hardly compare it against titles from other genres, therefore, the only way to gain a proper idea of this game is to play it for yourself.