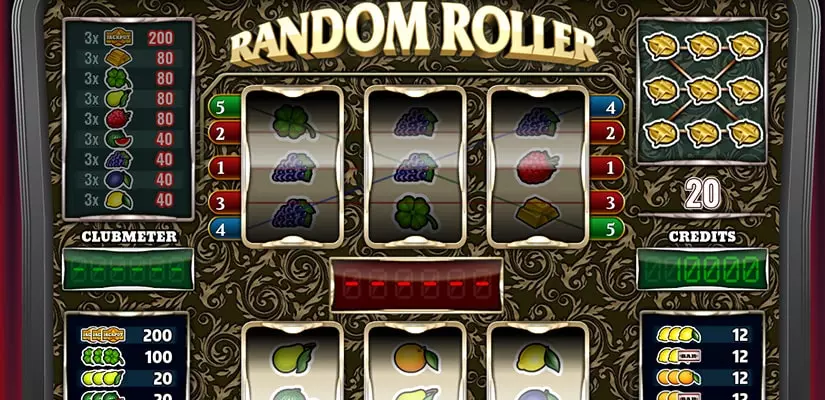 Random Roller is an interesting classic slot game which is actually two different slots in one. This title comes to us courtesy of Imagina Gaming, a new software provider founded only in 2016. Random Roller is unlike most other games that you will find in the online gambling industry and offers unique gameplay features.
It has somewhat limited betting options, with minimums ranging from €0.10 to €1.00 for one set of reels and €0.50 to €5.00 for the other. If you are a high roller this game might not be right for you. In this review, we will explore the factors that make Random Roller such a compelling game and provide you with our honest feedback.
Random Roller Slot Summary
Software Provider
Imagina Gaming
Paylines
1 or 5
RTP
95%
Minimum Bet
€0.10 or €0.50
Maximum Bet
€1.00 or €5.00
Wild Symbol
Yes
Scatter Symbol
No
Bonus Features
Two Sets of Reels | Option to hold symbols in place for one more spin
Jackpot
x3 Jackpot symbol pays 200 coins
Symbols and Winning Combinations of Random Roller Slot
There are plenty of symbols at Random Roller and given the type of slot, it is no surprise that they all take the shape of fruits. Depending on which set of reels you choose to play with, they each provide different payouts. Typically, the Jackpot symbol is the highest paying in the whole game, rewarding you with 200 coins on both sets if you manage to line up 3 of that symbol on the same payline.
Other profitable symbols are available in the form of the Four-leaved Clover, which pays 100 coins in the single-payline set and 80 coins in the 5-line set. It is worth noting that the 5-line set has better payouts for its symbols, where the Clover, the Gold, the Lemon, and the Berry all pay 80 coins for a x3 combination. Those same symbols pay significantly less in the single-line set and some of them are not even included.
Bonus Features of Random Roller Slot
Random Roller does not have any bonus features in the traditional sense of video slots, for example, mini-games or pick-and-choose levels. However, there are still plenty of interesting aspects that will pose an interest to you. As we have already mentioned, there are two sets of reels and you get to choose which you play. One has a single payline right through the middle position, while the other has five paylines, each with a different pattern. You can freely switch between the different sets, however, the cost of playing them will differ.
A spin on the single-line set will cost you 1 coin, whereas the cost of spinning the 5-line set will set you back 5 coins. Of course, the added cost is taken into account when calculating potential profits and this is reflected in the respective pay tables.
One feature that is exclusive to the single-line set is the ability to hold set symbols in place for the next spin. For example, you spin two Clovers and a Lemon. It is in your best interest to hold the two Clovers and spin the third reel with the hope of getting a third Clover. Naturally, you pay the price of a normal spin – 1 coin – and the Lemon reel will spin again. You may or may not earn you desired payout, but even if you do not, you cannot hold the reels in place for a second time.
Verdict
Overall, Random Roller is an interesting classic slot that gives you a lot in the way of options. If you decide to go truly old-school, you can play with a single payline, but if you want a more modern experience, then you can switch to the 5-line set of reels with only a click. This concept is not often explored in the online gambling industry and we are happy to see that some software providers have not ignored it completely.