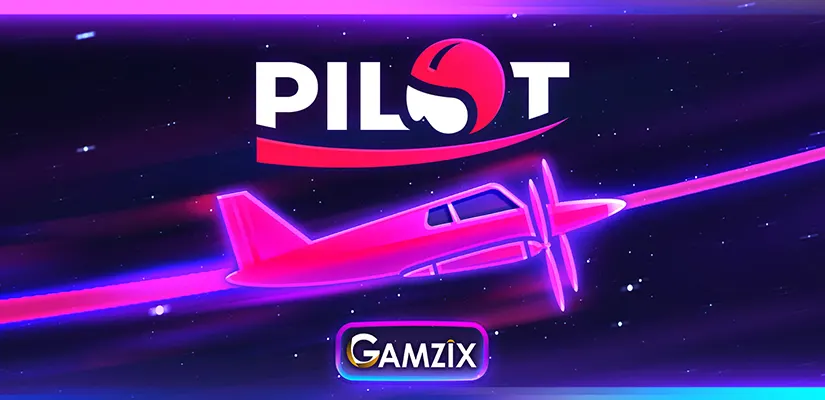 Having started its operations in 2020, Gamzix is a young iGaming provider that has already produced more than 30 fascinating games for the online casino market. With headquarters in Estonia, the company has consequently expanded to Cyprus and Ukraine and currently focuses solely on slots, featuring elaborate graphics and realistic animation effects.
Pilot is a nice addition to the studio's expanding portfolio of slot titles, which contributes to the gaming diversity due to its unusual setup. With no reels and rows, Wilds or Scatters, this Crash game would appeal to casino enthusiasts who are looking for more simplistic, yet engaging gameplay. Despite the uncomplicated rules, slot mavens stand chances to win up to 1,000x their bet value.
Pilot Slot Summary
Provider
Gamzix
Number of Paylines
0
RTP
96.50%
Minimum Bet
$0.10
Maximum Bet
$100.00
Wild Symbols
No
Scatter Symbols
No
Bonus Features
Crash game with varying skins
Jackpot
Maximum payout of 1,000x the bet
Symbols and Winning Combinations of Pilot Slot
Players commence their virtual flight with the adjustment of their bet value. The game can be enjoyed for just $0.10 to as much as $100 per round, so it meets the requirements of both casual players and high rollers.
Essentially, they are supposed to watch the rise of a red jet plane, in parallel with the increase of their potential prizes. All they need to do is cash out their winnings before the inevitable crash happens. To collect their winnings, players should click on the 'Take' button. Fans of this crash-style game should note that the win multiplier starts at 1.00x the bet value and increases. Winnings are calculated by multiplying the bet by the rate when players have opted to cash out.
Yet another option at the disposal of players is to go for 50% of the prize. If they fail to choose either the 'Take' button or the 'Take 50%' button, they will ultimately lose their bet. Before the start of each round, a Random Number Generator determines the rate at which the crash will occur. Players have the chance to go for the 'Autoplay' and 'Auto cash-out' options.
Bonus Features of Pilot Slot
Gamzix's Pilot would be a wonderful choice for slot fans who have grown tired of the usual slot mechanics, Wilds, and Scatter symbols. In lieu of these traditional mainstays, the Crash game offers fairly simple gameplay and clutter-free design. The further the plane soars to the skies, the higher the multiplier will be. Players also get to see the size of their winnings once they cash out in time. It is then up to them to decide whether to take a chance and let the plane fly for longer in order to obtain a greater reward or to cash out quickly before it crashes and all winnings are lost.
Although Pilot lacks a side game, slot fans should not hurry to eliminate it from their 'to-play lists'. A feature that distinguishes Pilot from most of the games played at online casinos is the fact that players can place up to two bets per game round. Their wagers can be of the same or different values and they may choose to cash them out at different times. They can use this functionality to their advantage and cash out their first bet earlier while leaving the second one for longer.
As already mentioned in the previous section, they can secure half of their prizes by clicking on the 'Take 50%' button. This contributes even further to the available choices that players have at their disposal. Additionally, slot buffs have access to the bet history for the last 50 round.
Ultimately, slot enthusiasts are welcome to fasten their seatbelts and enjoy the straightforward gameplay of Pilot, watching the plane take off. They can focus on their winnings with no distractions at all and even remove the red jet plane animation from their screens.
Verdict
All in all, crash-style games garner a lot of attention from casino enthusiasts and Gamzix's first take in this genre is no exception. It would appeal to players valuing pure gameplay above everything else. Additionally, the maximum wins of 1,000x the bet value, and the theoretical RTP standing at 96.50% are appealing enough to attract an ever-increasing number of casino enthusiasts.