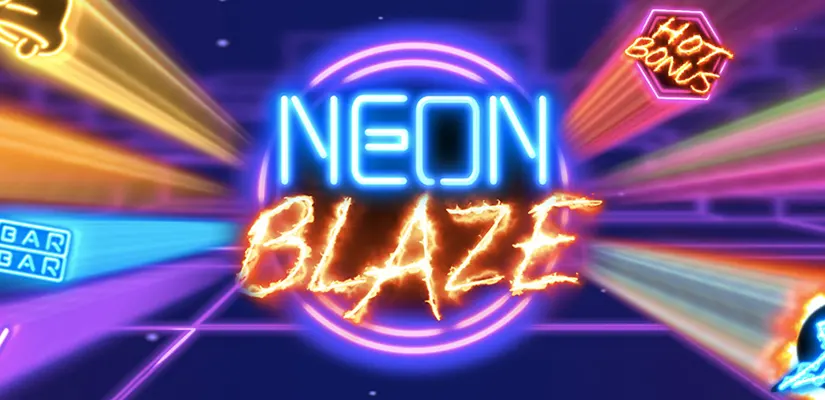 The 80s were a fascinating time when it came to fashion and pop culture, since neon was all the rage. So much so, in fact, that the entire decade is now characterized by its bright and vivid colors. If you find yourself missing the charm of the 80s, Revolver Gaming's Neon Blaze might be the perfect slot to consider trying.
Neon Blaze is a 30-payline slot that has an RTP of 95.96%, and it is available in English, French, Japanese, Thai, German, and more. The game provides gambling fans with the chance to win some very impressive rewards via its Hot Bonus feature and the Jackpot mechanic.
Neon Blaze Slot Summary
Provider
Revolver Gaming
Paylines
30
RTP
95.96%
Minimum Bet
1
Maximum Bet
300
Wild Symbol
Neon Blaze
Scatter Symbol
Hot Bonus
Bonus Features
Spreading Wilds, Free Spins, Multipliers, Jackpots
Jackpot
18,690x
Neon Blaze Symbols and Winning Combinations
Neon Blaze has a classic slot layout that features 5 reels and a total of 30 paylines. In order for a winning pattern to form, you typically need to land between 3 and 5 copies of the same icon on a payline, although the Bar symbols and the Lucky 7s are an exception.
A combination of different Bar symbols pays out 0.26x your bet, while getting 5 copies of the Cherry icon nets a 0.5x bet win. The next icon is the Bell, which has a payout of 0.66x your bet. Next, we have a combination of 7s, and a 5-reel win grants one's bet x1.6. Getting 5 copies of the pink Bar symbol nets the same payout. What follows are the blue and orange Bar icons. The former will reward you with 2x your bet if you get a full-reel win, while the latter has a payout of your wager x2.5.
As for the next set of symbols, pink, blue, and orange Lucky 7s pay out 3x, 6,66x, and 13.33x your bet, respectively. The Neon Blaze logo icon is the most impressive when it comes to payouts, seeing as getting a full-reel win grants a payout of your bet x50.
Neon Blaze also functions as the Wild, which substitutes for almost all of the other symbols. The one exception is the Scatter, which is dubbed the Hot Bonus. This special icon grants access to the slot's bonus mini-game. Additionally, three Hot Bonus icons pay out your bet x1. The final symbol you might spot on the reels is the Jackpot Jolt.
Neon Blaze Bonus Features
Revolver Gaming has certainly perfected the art of creating fun and engaging features for its titles, and Neon Blaze is no exception. One of Neon Blaze's bonus features is Hot Bonus, and this is the mechanic that rewards players with free games. Depending on your luck, you can win between 5 and 23 free spins.
When the Hot Bonus game mode starts, you are presented with a 4×4 grid of hexagons, and you must click them one by one to reveal prizes. A box on the right keeps track of the prize icons you have revealed. The potential rewards include between 5 and 20 free spins, a 1x multiplier, a 2x multiplier, and a Wild. In order to win free spins, you need to match three hexagons that grant the same number of free games. Wild icons add one match count to all of the options that grant free spins, and there is also a Wild variation that also gives you 3 additional free spins.
As for the Free Spins mode itself, the Hot Bonus icons will be active during this mechanic. If you land 3 such symbols, you get another set of free spins that are the same number as the free games you started with. This mode also boasts the Spreading Wild feature, where Wilds will be copied to other positions so long as said positions have an ordinary symbol. The new Wilds can be ordinary or symbols called Wild + Jolt.
The last icons are attached to Neon Blaze's second feature of note, the Jackpot mechanic. If you wager with a bet of the maximum size, 2% of each such bet contributes towards the 5 possible jackpots you could win during gameplay. If your bet is lower than the maximum, then the paytable above the reels shows how much you stand to win, depending on your stake. There are 5 jackpot levels. The first one pays out if you get 5 Jackpot Jolt icons, the second one 6, and so on until we reach the 9-symbol jackpot, which is the biggest of the bunch. Wild +Jolt icons count as Jackpot Jolt symbols.
Our Verdict
With all things said and done, we consider Neon Blaze to be an exciting slot that can grant you an exciting gaming experience. Neon Blaze supports auto-play, and you are also free to enable the turbo mode if you enjoy the thrill of blazing through each game. Best of all, the Neon Blaze slot and everything it has to offer is compatible with smartphone browsers.