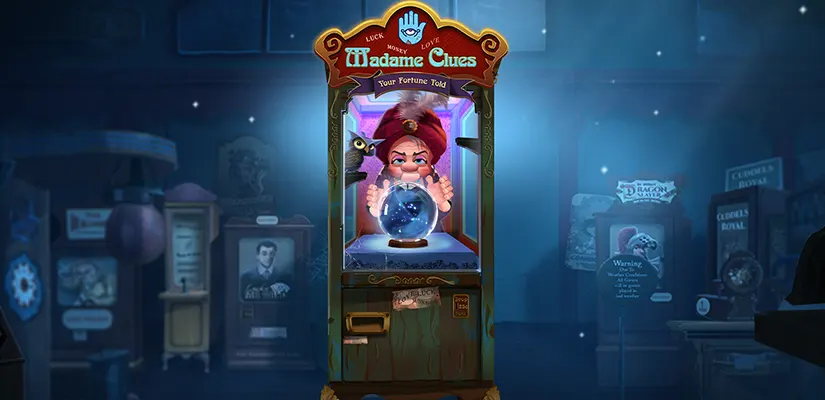 With its Madame Clues slot, Lady Luck Games is sending players on a fortune-telling adventure. Madame's small glass facility is located in an abandoned arcade where she awaits her deluded customers to predict their future. The mechanics of the game are quite unusual since there are only single-symbol wins. Whenever a paid icon shows up in the crystal ball, players collect an instant cash prize.
According to the official data published by the software company, the maximum payout of the Madame Clues slot exceeds 23,000x the wager. With an RTP of up to 95.9% and a betting range of between $0.01 and $100, this online casino game definitely deserves a deeper look, so keep on reading.
Madame Clues Slot Summary
Provider
Lady Luck Games
Payline number
1
RTP
95.9% – 88.0%
Minimum Bet
$0.01
Maximum Bet
$100.00
Wild Symbols
N/A
Scatter Symbols
Raven, Owl
Bonus Features
Free Spins, Deeper Bonus Feature
Jackpot
23,042x total bet
Symbols and Winning Combinations of Madame Clues Slot
You have no reason to worry if this is the first time you encounter this type of slot because as is the usual practice in the industry, the developer has provided both real-money and demo mode. By selecting the latter, you can first cotton on with the different symbols that appear in the base game and then move on to the special ones and the related bonus features.
Of all the beautifully rendered symbols that pop up in Madame Clues' crystal ball, there is only one that does not bring any profit, Death. If the rose-decorated skull shows up, you lose your wager and need to perform another spin and hope for better luck. The lowest-paying symbol is the Eye on Palm which will award you an amount equal to the one you have wagered. It is followed by the Chalice which triples your stake.
We are not sure how the Sword and Crown image fits into the slot's underlying theme, but it is there with quite a lucrative payout. Each time you see it on the screen, your bet will be multiplied 8 times. The highest prize within the base game mode comes from the Gold Coin symbol, which carries a 12x multiplier.
Bonus Features of Madame Clues Slot
The Madame Clues slot comes with no wild symbols, which might not be well received by some gamblers. On the other hand, there are two separate Scatters and two bonus features, respectively, so we tend to turn a blind eye to the lack of a Wild. The eerie yet beautiful Owl and Raven are the feature-triggering characters that sometimes appear in the fortune teller's orb.
One of the coolest things that can happen to you while playing the Madame Clues slot is to see the Owl in front of you. The wise bird will reward you with a payout of 2x the amount wagered, and in addition, it will give start to 3 Free Spins. Our praise for the Owl does not stop here. If during the feature it again lands in the crystal globe, you will enjoy another 3 spins and a doubled bet multiplier. Theoretically, you can perform up to 21 free spins and benefit from a maximum multiplier of x128.
You are reading an online slot review and you have not come across the word reel yet, and that is kind of weird, we know. Well, thanks to the Raven, Madame Clues will briefly resemble a traditional slot machine. This is how it's done. As soon as the symbol appears, the Look Deeper feature is triggered and the "grid" is divided into two 2×2 sections with the Raven transforming into four new symbols. If it shows up again, new four symbols will emerge. Given that three such splits are allowed, you may end up playing with 64 symbols in total.
Verdict
The Madame Clues slot by Lady Luck Games is one of those casino games that players are skeptical of at first, but once they try it, they never seem to get enough of it. The slot's distinctive features are the maximum payout of 23,042x total bet and the two thrilling bonus modes, which make it a preferred choice of an increasing number of gaming enthusiasts.