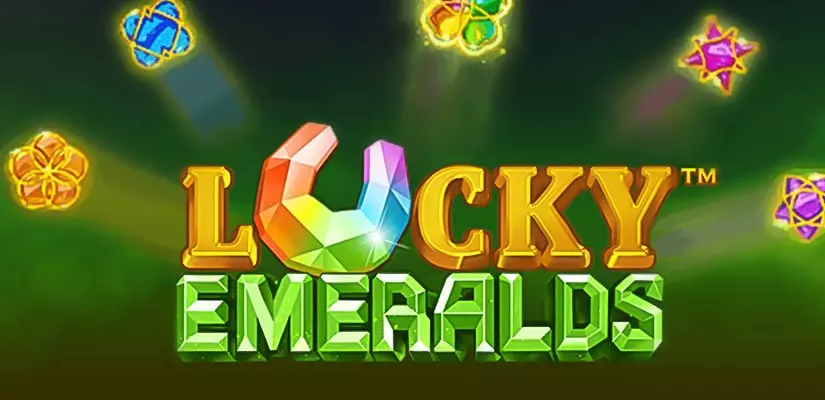 In this recent release, Playtech brings us a fresh and entertaining Irish themed slot. The simple, clean design reminds us of the old school slots you used to find in bars and gaming venues. Are you ready to see if you have the luck of the Irish?
Lucky Emeralds is a low to medium volatility slot, played across a 5×3 reel grid with 10 paylines and a wide betting range. This makes it perfect for new slot fans and high rollers alike. Let's test our luck and give the reels a few spins.
Lucky Emeralds Slot Summary
Software Provider
Playtech
Payline Number
10
RTP
95.73%
Min Bet
$0.10
Max Bet
$500
Wild Symbol
Yes
Scatter Symbol
No
Bonus Features
Clover Wilds
Jackpot
500x bet
Symbols and Winning Combinations of Lucky Emeralds Slot
Slot fans will know that the online slot scene is no stranger to Irish and Celtic themed slots, many developers have a tendency to go over the top though. Playtech has kept that in check in Lucky Emeralds. This recent release takes a simplified approach to design, opting for a backdrop of varied tones of emerald green.
The 5×3 reel grid is similarly simple in design, a clean green frame surrounds the translucent reels. Below the reels, you will find a compact user interface with all of the tools a player needs. The information, turbo mode, auto play, and bet adjustment buttons are all a pleasing light green color. Only the spin button stands out with its golden coloring.
While most of the design of Luck Emeralds is kept simple, the ten symbols that populated the reels are illustrated in spectacular fashion. Each one shines, sparkles, and has well thought out Celtic design elements. Nine of the symbols are regular and one is the wild. They are:
Low value = Small blue gem, small pink gem, small purple gem
Medium value = Large blue gem, large pink gem, large purple gem
High value = Orange Celtic flower, Gold horseshoe, Green diamond
Wild = Multicolored four-leaf clover
As a low to medium volatility slot, one would expect the payouts to be on the lower side. Lucky Emeralds bucks this trend with surprisingly generous winning line payouts. Landing five matching low value symbols on a payline will pay out 1.5 times the bet. The symbols with the highest payout are the green diamond and wild, land five of these on a payline and you will win 50 times your bet.
Like most online slots, Lucky Emeralds has an auto play and turbo mode. These are incredibly useful options if you want to spin the reels a few times but are short on time or busy with a task that requires both hands.
When you enable the auto play feature, you are given a choice between a different number of spins. The ability to choose how many times the auto play feature will spin the reels is a welcome one. This gives you greater control over how much you spend over the course of the gaming session.
Turbo mode does exactly what says on the tin, it quickens gameplay. When enabled, turbo mode spins the reels faster and keeps winning payline animations to a minimum.
Both options are great for playing a quick game or two in your downtime. Enabling both will allow you to spin the reels hands-free, letting you get on with other tasks while simultaneously making some nice winnings.
Bonus Features of Lucky Emeralds Slot
When it comes to bonus features, Lucky Emeralds holds true to its old school design philosophy of simple is better. The slot only has one feature, but with low/medium volatility and frequent payouts, this is not much of a detriment to gameplay or enjoyment.
The one, and only, bonus feature is Clover Wilds. The wilds in Lucky Emeralds act as they do in most other online slots, they can substitute for any other symbol to create winning paylines.
There is, however, more to the wilds. As you spin the reels you'll notice four-leaf clovers accumulating above each reel in stacks of up to 3. If a wild appears on the middle reel all winnings will be calculated and then the four-leaf clovers above will drift down onto the reels to potentially award even more payouts.
Verdict
Lucky Emeralds is a low to medium volatility slot with an RTP of 95.71% and frequent payouts. This is a great choice for new slot fans to gently ease their way into the world of online gambling. That doesn't mean that the slot has no appeal to high rollers though. The betting limit of $500 per spin and the potential to win 500 times your bet can lead to some hefty payouts.
This is definitely a slot that you shouldn't miss. Don't be fooled by the simplistic design, the relaxed gameplay is thoroughly entertaining. As always, give the free version a few spins to see if this one is for you before committing real money.