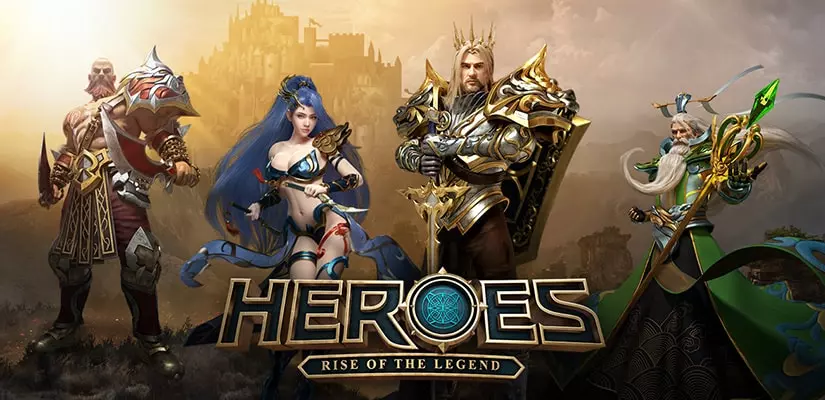 Heroes is a video slot brought to us by Spadegaming and it is a game that you do not want to miss. Released in the summer of 2019, Heroes takes inspiration from multiple mythologies and brings them together to form a compelling and exciting slot game. From the moment you open the game, Heroes makes a strong impression. Great visual design and background music make for a thrilling presentation and Spadegamiing has nailed it. On the gameplay side of things, Heroes functions on 5 reels and 50 unique paylines. But there is much more to this game than simple paylines and below, we will explore all aspects of this title.
Heroes Slot Summary
Software Provider
Spadegaming
Payline Number
50
RTP
not published
Minimum Bet
$0.50
Maximum Bet
$500
Wild Symbol
Yes
Scatter Symbol
Yes
Bonus Features
Free Spins, Special Free Spins Rounds, Multipliers, Expanding Wilds, Exploding Wilds, Symbol Collection, Stacked Symbols, Stacked Wilds
Jackpot
N/A
Symbols and Winning Combinations of Heroes Slot
Heroes come with a large variety of symbols, more than many other video slot titles. As such, you will see plenty of symbols on the reels every time you spin them. Of course, you need to have an idea of what you stand to win when playing this game and we will discuss all symbols featured in Heroes.
Primarily, the symbols in this title are separated into low- and high-paying groups. The low-paying symbols take the form of High Cards and Weapons. The High Cards are the least rewarding of the whole bunch and will appear more frequently. Specifically, the Jack and Queen symbols offer a payout of 50 coins for a x5 combination. On the other hand, the King and Ace will provide a marginally better reward of 60 coins for a full sequence.
The Weapons symbols are more rewarding though not as much as the Heroes symbols, which we will get to shortly. The Staff and the Knives share a paytable and will net you 100 coins when you spin 5 of each type. The Short-Swords and the Sword symbols increase the reward up to 120 coins for a x5 combination.
The Heroes symbols significantly up the ante and will be your primary targets when you play this game. Lowest of the group is the Master Jiang symbol, offering 200 coins when you spin 5 of it. It is followed up by the Princess Yue symbol and its payout of 250 coins for a max sequence. The Iron Khan is up next and when you spin 5 across all reels, you will earn 300 coins. The last of the basic symbols is King Arthur, promising 400 coins to those who hit a x5 combination.
Aside from the basic symbols, Heroes also features two special ones, as well. These include the Wild and Scatter, each with its special function. The Wild is the best-paying symbol in the game, offering 500 coins when you spin 5 in sequence. Moreover, it will also substitute for all basic symbols in winning combinations. On the other hand, the Scatter will spin on the second, third, and fourth reel exclusively. When you spin three at the same time, your total bet will be multiplied by 5.
Bonus Features of Heroes Slot
Much like other Spadegaming titles, Heroes is not without its set of bonus features. The most readily-apparent one is that Heroes symbols can appear stacked on the reels. This means that they can take up a maximum of three positions.
This stacked feature also plays into the next one, called Heroes Accumulation. Every time you spin a fully-stacked Hero onto the reels – meaning that the Hero symbol has to cover all three positions – you will gain a point towards the Accumulation Bar. When you acquire 25 points, the game will enter into a bonus round of 12 free spins.
Before the free spins begin, the game will pick a Hero at random. Each Hero affects the round differently, but all add some degree of value to it. For example, during a King Arthur Round, all King Arthur symbols will stay on their positions for the duration of the round. Moreover, each King Arthur symbol will add a random multiplier. During this segment, Scatter symbols will add one additional spin every time they land on the reels. After each spin, the game will add up all King Arthur symbols and will reward you for them, with respect to any multiplier acquired during the process.
The Iron Khan Round offers something completely different. During the free spins, any Iron Khan symbols will serve as Wild symbols. Moreover, when they land on the reels, these symbols will explode and expand in all four directions. Payouts are awarded after the symbol expansion.
A Princess Yue Round offers Stacked Wilds. More specifically, Princess Yue symbols are accumulated during this round with three symbols per reel. When you collect three Princess Yue symbols on a given reel, that reel will transform into a reel Wild for the remainder of the round.
Finally, Master Jiang Rounds are also not to be discounted. For the first 11 spins of the round, all Master Jiang symbols are collected and stored, up to a maximum of 12. On the final free spin, all the acquired symbols are then released onto the reels, with the exception of the first one. These symbols now serve the function of Wilds, increasing your odds at forming large wins.
However, it is worth noting that during the Free Spins, all symbols come with a reduced payout. The Hero symbols are halved in terms of rewards, whereas the low-paying ones are hit even harder. This is something that you will have to account for if you wish to play this game.
Our Verdict
Like most other Spadegaming titles, Heroes is compelling and full of innovative and well-designed features. This title will no doubt appeal to those who like mythology and fantasy where thematics are concerned. On a gameplay level, Heroes is also quite entertaining. The only complaint that we have is that the payouts are reduced during free spins. While the bonuses features you benefit from during free spins are arguably powerful, the reduction in rewards leaves a bad taste in players' mouths. Regardless, we believe that Heroes is a great video slot and we find no issue in endorsing it.