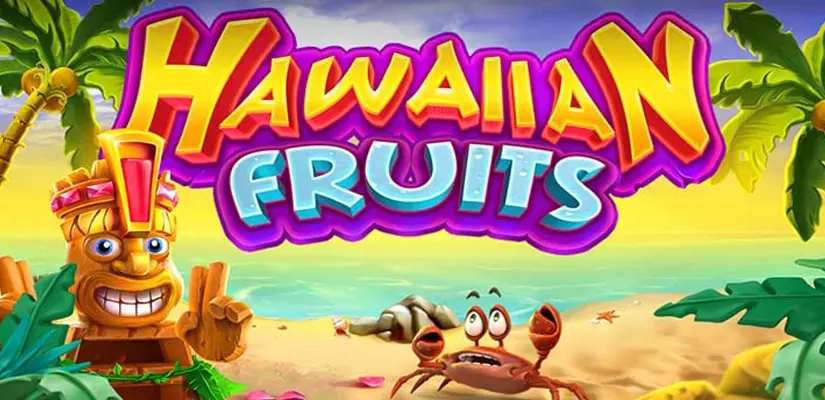 Get your beachwear ready, because we are heading to the Hawaiian beach-themed game. Enjoy the large variety of sweet and exotic fruits that this slot has to offer. And the prizes are pretty enticing as well. When spinning the reels of this GameArt 5×5 grid, you will find a fun Tiki statue rooting for you on the left side of the game board.
This game has an enjoyable beach vibe, colourful graphics, and plenty of features. It even has an expanding feature that transforms your slot reels into a great 7×7 grid. So, sit back, sip your cocktail, and enjoy the alluring atmosphere.
Hawaiian Fruits Slot Summary
Software Provider
GameArt
Paylines
–
RTP
96.08%
Minimum Bet
$0.40
Maximum Bet
$200
Wild Symbol
Mini Pond Multiplier
Scatter Symbol
–
Bonus Features
Collapsing feature, Wild Multiplier, Tiki Pop, Tiki Meter, Free Spins, Grid Expansion
Jackpot
N/A
Symbols and Winning Combinations of Hawaiian Fruits Slot
While kicking back and spinning the reels on a Hawaiian beach, you will happen upon a variety of fruits with different values. You will find pineapples, coconuts, star fruits, passion fruits, dragon fruits, soursops, and jackfruits. In order to win a prize, you must land a cluster of at least 5 matching fruits.
For 12+ matching jackfruits, players will be awarded 0.375x their wager. For 12 or more coconuts in a cluster, you will get 0.45x your original bet. If you manage to land a cluster of 12 or more pineapples, you will get 0.5x your bet. For 12 or more soursops, you will be awarded 0.625x your original wager.
In exchange for a group of 12 or more adjacent dragon fruits, players will receive 0.875x their bet. If you land a cluster of 12+ passion fruits, you will get 1x your original wager. And last, but certainly not least, for 12 or more star fruits in a bunch, players will be awarded 1.5 times their original bet.
When you make a group of symbols, they then explode, creating a cascading effect on the reels, allowing for the possibility of more clusters. Clusters can be made horizontally and vertically. Each exploded fruit contributes to the Tiki Meter, which when full, triggers a bonus feature.
You will also encounter the Wild symbol. It looks a bit like a mini pond inside a nest of plants and flowers. Wilds can substitute all symbols and contribute to winning bunch. They also hold multipliers that increase by 1 with every explosion of a cluster.
Bonus Features of Hawaiian Fruits Slot
This game boasts a wide range of intriguing features. The collapsing bonus is a great one. Every time a bunch of fruits explode, a cascading effect takes place, giving the opportunity to create more clusters. Another really interesting one is the Wild which has multiple attributes.
The Wild substitutes all other symbols. If one or more Wilds contribute to a cluster win, when the group of symbols explodes, the Wilds move to a random adjacent vacant position before the following collapse occurs.
Each Wild has a multiplier that starts a 1x and increases by 1 every time it contributes to a bunch of fruits. If more than one Wild has added to a cluster win, the multipliers of them are added and applied to the final winnings amount. Wilds don't contribute to the Tiki Meter.
Tiki can randomly destroy one pineapple, coconut, or jackfruit to cause a cascading effect. This feature is called Tiki Pop. It only occurs in the base game. The Tiki Meter is filled with each exploding symbol. You can collect 6, 11, and 16 in order to add up to 3 extra Wilds on the reels.
If you manage to collect 40 symbols in the Tiki Meter, you will trigger Free Spins that are played on a 7×7 grid. Continue adding 55, 85, and 145 icons and get up to another 3 Wilds on the reels. All Wilds collected on the base game and their multipliers are transferred into Free Spins.
Verdict
This Hawaiian-themed game does have some tricks up its sleeve to entice players into a unique gameplay experience. Unfortunately, GameArt hasn't provided us with the maximum prize amount on this game, but nevertheless, Hawaiian Fruits Slot does have high potential for winnings with those Wild Multipliers.