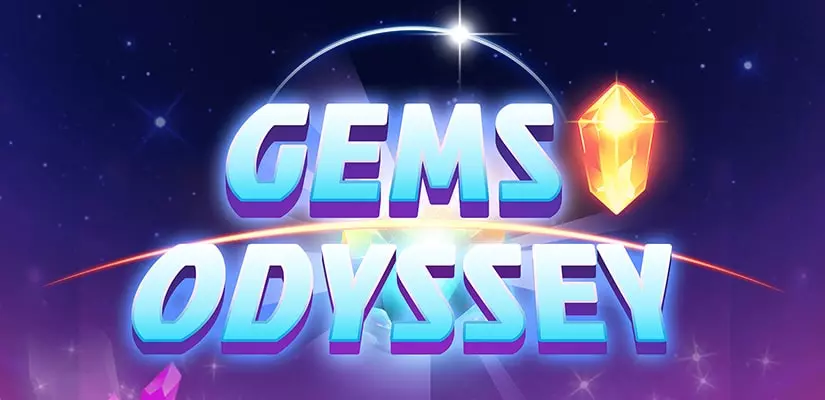 If you are tired of casino games that offer the same experience, then you should try Gems Odyssey. It is a wonderful galaxy themed game, powered by Skillzzgaming and it allows casino players to enjoy a different type of betting experience.
Instead of collecting winnings while spinning reels, players will have the chance to enjoy a fruitful experience by matching clusters of gems. They will also be able to choose between a Manual Mode and an Artificial Intelligence Mode where the game will blast clusters automatically. While there is no progressive jackpot, players do have the chance to sweep a payout of 1,000x their bet if they collect at least three Jackpot symbols on the reels.
Gems Odyssey Slot Summary
Provider
Skillzzgaming
Paylines
This game is with clusters and not paylines.
RTP
94.60%
Min Bet
£0.50
Max Bet
£100.00
Wild Symbol
There are no Wild symbols in the game.
Scatter Symbol
The game does not incorporate Scatter symbols.
Bonus Features
Players can enjoy a special Second Chance feature.
Jackpot
There is no progressive jackpot but players can win a 1,000x multiplier if they match at least three Jackpot symbols.
Symbols and Winning Combinations of Gems Odyssey Slot
The symbols of the game include various colorful gems and special nebula stones. Depending on the types of gems you match while playing the game, you can gain different multipliers. The lowest payout will be collected when you match rubies which will pay out only 0.2x your bet. The next gem that will award a 0.5x multiplier is the sapphire, followed up by a yellow gem which pays out 1x. The next gem that will guarantee a payout of 2x is a purple amethyst and if you manage to collect clusters of emeralds you will enjoy a multiplier of 5x. The highest payout can be won if you match clusters of orange gems which will award 10 times your stake.
In Gems Odyssey, you will also notice that there are special nebula stones. There are four types of nebula stones that players collect as they play and they include Common, Rare, Epic and Mythical stones. Thanks to them, those who advance in the levels of Gems Odyssey can enjoy generous prizes. You will also notice that there are Jackpot symbols in the game and those who manage to blast a cluster of them will enjoy a payout of 1,000x their bet.
Bonus Features of Gems Odyssey Slot
One of the main things that will make your game time more fruitful is collecting nebula stones. Whenever you blast clusters with nebula stones, they are collected in your inventory and are kept there until you level up. The reward you can enjoy for collecting a Common Nebula Stone can range between 0.7x and 2x. If you managed to get a Rare Nebula Stone, you can receive a multiplier that ranges between 3x and 6x. The third special stone which is the Epic Nebula one will reward players with a payout between 10x and 20x their bet. Finally, the Mythical Nebula Stone can award players with the amazing payouts between 50x and 100x their stakes.
Another great feature of the game is the one that will randomly award players with a second chance. While this special option can be triggered after any round that you have lost, it is often activated when players have failed to gain any rewards.
As you play Gems Odyssey, you have the chance to enjoy even higher payouts as you level up. There is no limit to the levels you can advance to while playing and the best part is that nebula stones will award great prizes as you reach a new level.
Another feature of the game will allow players to win a major payout of 1,000. If you are lucky enough to blast at least three Jackpot symbols, you will be awarded a 1,000x multiplier. Even though there is no progressive jackpot in Gems Odyssey, this feature definitely gives the chance of very lucrative game time.
Verdict
Gems Odyssey is a different variation of slots as it includes some skills in addition to random luck. You can choose whether to blast clusters by yourself or let the game do it for you. As you collect gems, you can level up and enjoy wonderful prizes thanks to the nebula stones. Gems Odyssey is a fun game which can definitely award great payouts and make your virtual gaming time enjoyable and lucrative.