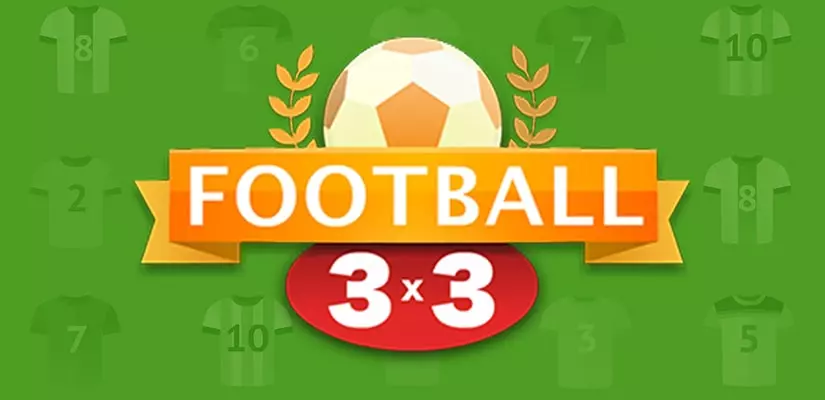 If you are a slots maven but at the same time, you are intrigued by soccer, you can easily get into the footy spirit, thanks to 1×2 Gaming's Football 3×3. This video slot was rolled out in 2018 and what makes it a must-try option is that it will allow you to play 9 slots at once as there are 9 reel windows. Aside from its one-of-a-kind layout, the game also impresses with its symbols as the reels feature trophies, balls, football doors, and the jerseys of the teams, which have taken part in the World Cup 2018.
Football 3×3 can be played for as little as $0.10 per single spin of the reels. It might not feature that sophisticated animations, but it definitely provides slots lovers with fun playing experience.
Football 3×3 Slot Summary
Provider
1×2 Gaming
Paylines
9
RTP
95.00%
Minimum Bet
$0.10
Maximum Bet
$45
Wild Symbol
N/A
Scatter Symbol
N/A
Bonus Features
N/A
Jackpot
N/A
Symbols and Winning Combinations of Football 3×3 Slot
Football 3×3 is an exhilarating video slot, which football lovers might cheer for. Obviously, while styling the game, the company has got inspiration from the World Cup 2018, and all the craze and hype around it.
What will impress you about Football 3×3 is the unusual grid because, in practice, slots mavens will find themselves playing 9 slots at once. This is possible as the game boasts nine different playing fields, each of which has 3 reels and a single payline. As soon as you see that three identical symbols land on any of the playing fields, you will be paid out accordingly. This small twist paves the way of enjoying wins in many different ways.
Players will quickly take to the appeal of the game, because of the nice prizes it distributes. What slots buffs will notice upon setting the reels in motion are the sound effects, which are not that much in line with the incorporated theme. That being said, the symbols which can land across the reels are exactly what you might expect from the name of this video slot.
Football 3×3 will not disappoint you visually as the vibrant colors render the slot extremely easy on the eye. The grid itself is set against one of the playing fields where your favorite teams are competing as you will see its grass in the background.
Bonus Features of Football 3×3 Slot
One of the departments in which Football 3×3 lacks is that the game does not come with bonus rounds or any special symbols, which might not appeal to some slots mavens.
One of the biggest peculiarities of Football 3×3 is that when players manage to line up three identical symbols, they will not be awarded a specific number of coins as instead, they will enjoy a multiplier. While playing Football 3×3, the jerseys of different teams award lower-value multipliers.
Please note that the multiplier players will enjoy will correspond with the number, which is printed on the jerseys. Thus, the green jersey awards an x1 multiplier, while the yellow one gives a x2 multiplier. When you land three blue jerseys, an x3 multiplier will be awarded. Players will enjoy x4 and x5 multipliers when they land three chequered and three white jerseys respectively. The dark blue and the red jersey award x6 and x7 multipliers respectively, while the white jersey with the single red stripe gives x8 multiplier. An x10 multiplier is given when three white and red striped shirts appear simultaneously.
Football 3×3 grants larger prizes when you land three football balls. The least rewarding of them is the red one as it awards an x15 multiplier. The purple one gives a x20 multiplier, while the turquoise one comes with an x25 multiplier. The green one and the orange one award x30 and x50 multipliers. While reveling in Football 3×3, players will also be gladdened to land 3 football doors simultaneously as then, a 100x multiplier is given. The best scenario slots buffs can expect is to land three trophies as on that occasion, an x500 multiplier will be applied.
Verdict
Football 3×3 is a nice gaming solution, which football lovers might be keen on trying out. It can be accessed from just about any device as it is available for play via tablets, smartphones, and desktop devices. Slots buffs should consider checking it out because of its quirky style, which is what makes Football 3×3 stand out.