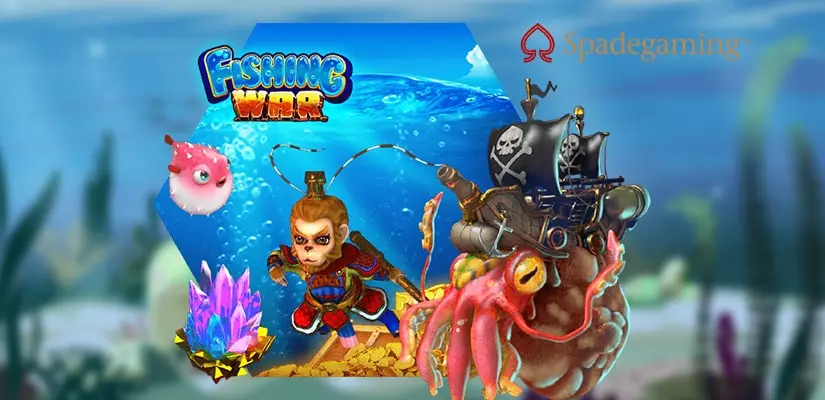 Fishing War is a new and unique game, developed by Spadegaming. The premise of this game is different than anything else you will find in the online casino scene and very few titles have similar ideas. Fishing War is not a slot, table game, video poker, or part of any of the mainstream genres. Instead, it has more in common with smartphone games than anything else. You wage war against the creatures of the sea, by firing a cannon at them with the goal of taking their treasure. It is not something you see every day and that alone draws our attention to it. In this review, we take a look at just what Fishing War actually is.
Fishing War Summary
Software Provider
Spadegaming
Payline Number
N/A
RTP
not published
Minimum Bet
Junior Mode: $0.01 Expert Mode: $0.10 Godlike Mode: $1.00
Maximum Bet
Junior Mode: $1.00 Expert Mode: $5.00 Godlike Mode: $10.00
Wild Symbol
N/A
Scatter Symbol
N/A
Bonus Features
Bonus Rewards, Increased Multipliers, Chain Lighting Effect, Exploding Creatures, Random Wheel Game, Massive Earthquake Feature
Jackpot
N/A
Symbols and Winning Combinations of Fishing War
Fishing War features a wide range of creatures which will appear in the sea for you to shoot down. Each offers a reward by itself, but some are more worthwhile than others. As it goes, the better the payout, the harder the creature is to take down. But before, we go into details regarding the payouts, we first have to take into account how you get it.
When you open the game, you will be assigned a cannon and you may be joined by up to three other players. Each shot of the cannon will cost you a part of your bankroll. Once you have shot at a creature for long enough, it will give you its reward. There are three different firing modes – standard shots, double shots which cost double the money, and lightning mode.
There are 21 different basic creatures in Fishing War, which serve only to provide cash rewards. Most of them are primarily there to fill up space and maintain your bankroll rather than grant any actual profit. For this reason, we will skip over the less worthwhile creatures and go straight for the major ones.
The Anglerfish comes first in our list and it offers a payout of x12 the killing shot. This is followed up by the Turtle and the Swordfish, which will multiply your shot by x13 and x15, respectively. From this point on, the rewards become even better. The Catfish and the Blowfish offer substantial rewards of x18 and x20, respectively. This is the point where we reach the Blue and Yellow Shark. These creatures provide flexible payouts, which range between x20 and x30 for the Blue Shark and between x25 and x45 for the Yellow Shark. The Hammerhead Sharks follow a similar logic. The Blue Hammerhead Shark will pay between x30 and x50, whereas the Yellow Hammerhead Shark will offer between x40 and x60.
The last of the basic creatures include the Crab and the Frog. The Crab will pay between x50 and x200, depending on your luck. The payouts of the Frog begin at x50 and go as high as x400 to those lucky enough.
Bonus Features of Fishing War
The bonus features in Fishing War are realized in the Special Fish, which will appear from time to time. Aside from the base payout, these creatures will offer something extra for your troubles.
The Dragon King is one of the more basic creatures in this category, awarding between x10 and x300 as a base payout. However, players can work together to take it down and earn a lucky bonus.
The Firestorm cannon will randomly appear and start the Firestorm mode. When this happens, you will receive between 30-100 bullets – or credit in other words – and the mode will last until all bullets have been fired.
The Thunder Hammer will provide you with anywhere between x30 and x100 in rewards. Moreover, once obtained it will release a chain lightning effect, striking random fish on the screen.
The Azure Stone is also quite interesting. When taken down, you will gain x10 as a base reward but it will also freeze the sea and the fish therein, while also increasing their payout for a short time.
Wealth Packets are awarded every now and then at random when you shoot down a fish. You will get to choose one from five Packets and you will receive the payout within.
The Dragon Wheel is definitely worth the bullets it takes to shoot it down. Once you do so, it will trigger a roulette game and award random high rewards, which can go as high as x300.
The Awakening Dragon will give you the opportunity to exponentially increase your winnings. When taken down, it will explode at least twice and any fish caught in the blast area will give you their payouts. The Monkey King follows the same logic, but the payouts are often much better.
Finally, the Pirate Ghost Ship is the last Special Creature in Fishing War and you will have to work together with other players to bring it down. If you succeed it will cause an earthquake, killing every fish in the pool. Collecting all these payouts can net you up to x888 in prizes.
Our Verdict
Fishing War is one of the few games in this genre and all of them are quite rare in the online casino scene. If you ever come across this title at an online casino, be sure to try it out, purely for the novelty factor. It is extremely rare to come upon something so unique in the present iGaming scene and we cannot help but commend innovation.