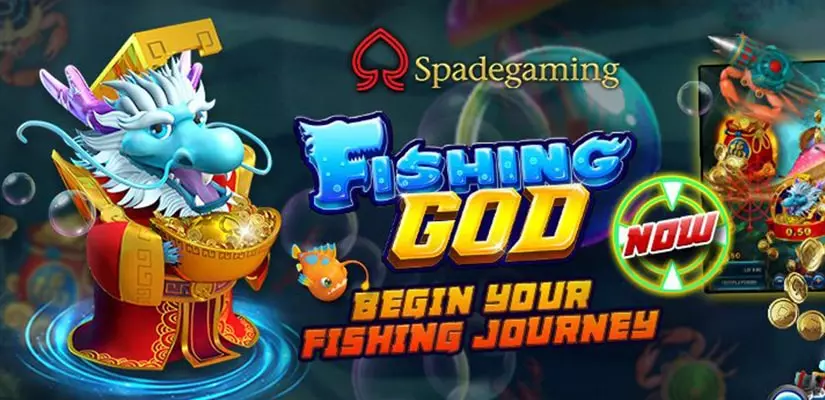 While betting on slots can be fun, Spadegaming has provided a new way to bet your money and earn winnings in a fun way. Fishing God is one of the unique options the gaming provider is offering and it is definitely a new way to boost your gaming balance.
This is an arcade game that will allow you to dive deep into the ocean and test your fishing skills. You can aim for various fish and ocean creatures which will award generous payouts if you manage to capture them. As there are several Special Fish, you will also have the opportunity to enjoy even more generous winnings.
Fishing God Slot Summary
Provider
Spadegaming
RTP
97.00%
Min Bet
0.01
Max Bet
10
Special Symbols
Players will have the chance to capture the Special Fish of Fishing God.
Bonus Features
Depending on the Special item you have captured, you can trigger different special features that award free bullets or generous payouts.
Jackpot
N/A
Symbols and Winning Combinations of Fishing God Slot
One of the most entertaining things about Fishing God is that you will be able to shoot different creatures, each of which offers a different payout. Of course, smaller fish are easier to catch but will also award much lower payouts. When you load the game, you will be able to see a paytable with the payouts for every type of fish and creature you can capture in the game.
The regular fish that you can catch while playing this game will offer payouts that range between 2x and 50x. There are also fish that will bring you higher payouts that may range somewhere between 30x and 70x but some may pay up to 200x your bet. The biggest payout will be awarded if you catch a golden dragon that may pay out between 60x and 888x times your original wager.
Keep in mind that the amount you will receive will depend on the amount you have spent for your bullets, aka the size of the bet you have made. While fish with higher payouts are more difficult to catch, it is definitely worth going for the bigger ones as they will bring you much more fruitful results.
Bonus Features of Fishing God Slot
When the game is launched, you will have the opportunity to pick from three different areas where you will try and get some good catches. The first room is the Junior one, followed by Expert and Godlike. The type of room you choose will also determine the size of the bets you are willing to make. The Junior room requires bets between 0.01 and 1 coin, while the Expert area is for wagers that range between 0.1 and 5 coins. The Godlike room will require bets between 1 and 10 coins.
Once you have made your mind on the amount you are willing to bet, you can start fishing. Keep in mind, however, that Fishing God is also offering Special Fish and items that will bring you bountiful prizes.
Lazer Crab is one of the Special creatures to look forward to when you are fishing as it rewards up to 120x your bet and it will present you with a Cannon that has a much wider range of shooting. Drill Crab and Bomb Crab are the other similar creatures that will also pay up to 120x your wager and will also respectively award a Drilling Cannon and a Bomb.
A Wheel Crab can also trigger a special feature when it is captured and it can award a payout of up to 300x. The Flash Jelly Fish is also among the Special Fish of Fishing God and it can award up to 120x your bet when it is caught. In addition to that, this will release electric waves which will strike random fish on the screen.
If you catch a Rapid Fire Cannon, it will be awarded to you, giving you between 60 and 100 free bullets to shoot with. Another special item is the Golden Fortune Bag which will award a major prize of up to 200x. When this feature is triggered, players will be able to choose from three Golden Fortune Bags and enjoy the prize within the one they have selected. The last Special feature is the Dragon King's Treasure which is triggered when the Dragon King is captured. It may award between 10x and 300x your bet if you and other players attack the Dragon King successfully.
Our Verdict
Fishing God is definitely a very exciting arcade game that many may enjoy. It allows you to choose from three different levels of betting and bet the amount you feel comfortable with. If you manage to capture one of the Special Fish and items of the game, you can expect even more rewarding outcomes and a very exciting fishing adventure.