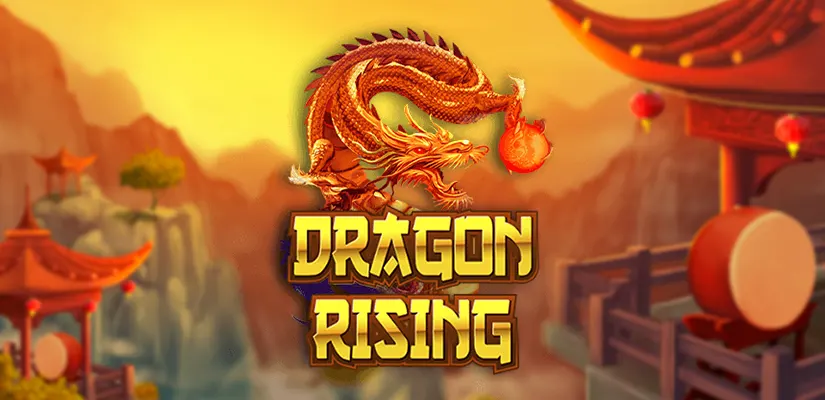 Get 350% up to $3500 Bonus
For new players at Cherry Gold Casino
Dragon Rising is a slot that features an aesthetic inspired by Ancient China. It was developed by Caleta Gaming, and players who value the visuals of the games they decide to enjoy will be happy to see that Dragon Rising does not disappoint in this department. The backdrop of this slot is an illustration of serene Chinese mountain scenery, and the symbols themselves represent various celestial beings and items that are significant to Chinese culture.
Gambling aficionados are free to enjoy Dragon Rising on their desktop computers or on the browsers of their smartphones. In either case, playing this 50-payline slot is an absolute blast thanks to its artwork, dramatic background music, and bonus features.
Dragon Rising Slot Summary
Software Provider
Caleta Gaming
Payline Number
50
RTP
95.69%
Minimum Bet
$0.50
Maximum Bet
$200.00
Wild Symbols
Ancient Chinese Dragon
Scatter Symbol
Golden Coin, Red Gem, Yellow Gem
Bonus Features
Dragon King Free Spins, Gem Fever
Jackpot
8,000x
Symbols and Winning Combinations of Dragon Rising Slot
Dragon Rising is a game that has 50 fixed paylines, and for most symbols, a win can only be achieved if 3, 4, or 5 copies of the same icon land on a payline, with the first symbol positioned on the left-most reel.
As for the symbols themselves, the ones that have the smallest payouts illustrate playing cards 9 through the Queen. If you manage to get 5 copies of the same card value icon of this type, you will receive a payout of 400x. The symbols that will reward you with slightly higher winnings are the King and Ace, and 5 illustrations of each pay out your bet times 600.
Next, we have the Bat and the Dragon Turtle, both of which are of great cultural significance when it comes to Chinese mythology. If you receive 5 of the same when it comes to these symbols, a payout of 1,200x your bet awaits. What follows are the Money Toad, a Chinese symbol of prosperity, and the Golden Fish. These icons have better payouts for lucky players, seeing as managing to land 5 copies nets a 1,600x win.
As for the symbol that will result in the largest wins by far, that would be the Ancient Chinese Dragon, as its paytable lists that you will receive your bet times 8,000 if 5 copies land on the reels. This icon is also our first special symbol, and it is Dragon Rising's wild.
The game also has several scatters that may increase your winnings. The first one is the Gold Coin, an icon that allows players to gain access to Dragon Rising's free spins mode, and this requires three coins. In addition, the said three scatter symbols pay out your bet times 4.
Dragon Rising's final scatter symbols do not, themselves, have payouts. These are the Yellow Gem and the Red Gem, and they are collectibles that fill up two different bars. It takes 50 copies of the same gem to fill up a single bar, and when you achieve this, you will win free spins.
Bonus Features of Dragon Rising Slot
Gaming enthusiasts will find that the developers behind Dragon Rising have not failed to add additional excitement to the gameplay. There are several features that will make gaming sessions more lucrative, and the one we will take a look at first is the Dragon King Free Spins.
In order to gain access to the Dragon King Free Spins bonus, lucky players must see three Golden Coin Scatters land on the reels. When you do find yourself fortunate enough to trigger this game mode, you will be rewarded with 5 free spins. This mode includes all game symbols, with the exception of the Gems, which means that you can land even more scatter symbols and win additional free spins during the Dragon King Free Spins bonus.
The next feature that is available for Dragon Rising players is Gem Fever. Whenever you start playing, you will notice that there are two bars that end in a red and a yellow gem. These bars represent a counter that showcases the number of Yellow Gem and Red Gem symbols you can see on the reels while playing the base game. When you manage to collect 50 Red Gems, the reward you will receive consists of 5 free spins. As for the Yellow Gems bar, 50 copies will net you 10 free spins. We should also note that the counter does not reset whenever you need to stop playing for the day, and so long as you do not go 7 days without playing at all, your counter will remain.
If you play on the landscape orientation, the bars are positioned on each side of the reels, while playing on portrait puts the bars at the top and bottom of the reels. In either case, they make it very easy to keep track of your gem count.
Verdict
To sum up, there is a lot to like about Dragon Rising. If you are a fan of Chinese folklore and mythology, you will appreciate this slot's setting, and playing in and of itself will be quite rewarding for lucky players. The 5-reel slot is available in 12 languages, and you can enjoy everything it has to offer on popular browsers such as Chrome, Mozilla Firefox, and others.