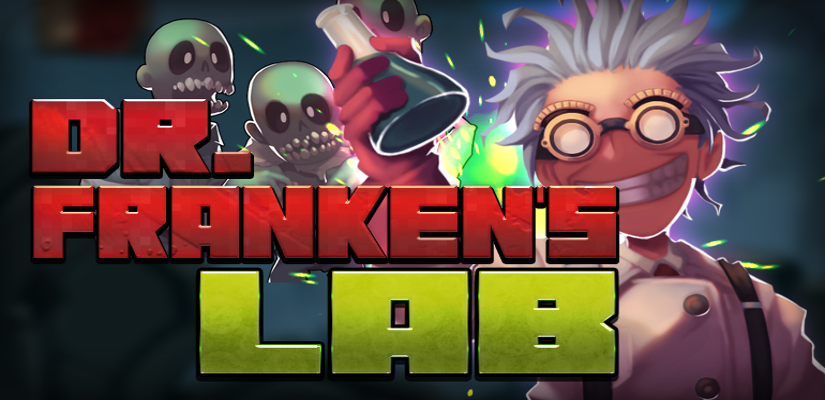 One of the key characteristics of any Bigpot Gaming slot is the excellent graphics quality, and indeed, Dr.Franken's Lab 777Jackpot is no exception. The game's artwork is rendered in a cartoon-like style that looks stunning, while the music sets the somewhat creepy yet whimsical tone of the game as a whole.
Dr.Franken's Lab 777Jackpot is available in a number of languages, including but not limited to English, Polish, and Thai. The overall gameplay is thrilling yet simple to grasp for both new players and experienced casino mavens alike, and there are several bonus mechanics that will further improve each gaming session.
Dr.Franken's Lab 777Jackpot
Provider
Bigpot Gaming
Payline Number
243
RTP
82.29%
Minimum Bet
0.2
Maximum Bet
200
Wild Symbol
Radioactive Symbol
Scatter Symbol
Zombies Exodus
Bonus Feature
Jackpot
777x
Symbols and Winning Combinations of Dr.Franken's Lab 777Jackpot
Dr.Franken's Lab 777Jackpot has a 3×5 layout where winning combinations can form so long as the same icons land on adjacent reels, starting from the leftmost reel. The low payout icons are playing card symbols J through A, and their payout is a player's bet x0.1 if a 3-copy win is achieved. If 4 copies of the same card icon land, then the user receives their wager x0.2. Last but not least, a 5-reel combination has a payout of x0.8.
The second set of icons illustrates two adorable zombie pets. Both of the said symbols have payouts that range between 0.5x and 4x the bet, depending on the number of copies one gets of the same icon.
Next, we have the character symbols, and the first two characters pay out your bet x1 if you win by getting 3 icons on the slot grid. A 2x win is what awaits players who luck out on a 4-copy win, while seeing a total of 5 copies of the same character nets 10x the stake. As for the two gentlemen who are left, getting 4 copies of the same illustration grants a win of one's stake x6, while seeing the same symbol on all the reels results in winnings 30x your wager.
Dr.Franken's Lab 777Jackpot's first special symbol is the Radioactive symbol, and its role in this slot is to substitute for almost all the game's icons. The only exception is the Scatter, named Zombies Exodus, which is an illustration of a pack of zombies who are your ticket to the Free Spins mode.
There is another group of symbols dubbed Walking Wilds. They form whenever a Random Event is triggered, which, in turn, transforms the high-paying character symbols into zombies.
Bonus Features of Dr.Franken's Lab 777Jackpot
While playing Dr.Franken's Lab 777Jackpot, players will find that there are a number of extra features they can take advantage of. The one we will cover first is Free Spins, which, as suggested, is essentially Dr.Franken's Lab 777Jackpot's free game mechanic. To gain access to this mode, three Zombies Exodus symbols need to land on reels 3, 4, and 5. Each instance of Free Spins features a total of 8 free games. If you are a player who does not have a lot of time to devote to iGaming, you can also choose to access the Free Spins mode manually by clicking the Buy Free Spins button as opposed to waiting until you are lucky enough to trigger this mode the traditional way.
Another bonus mechanic that is unique to Dr.Franken's Lab 777Jackpot is the Random Event feature, where High paying icons are converted to Walking Wilds. These symbols are special, seeing as they serve as additional Wilds, and they become semi-stuck to the reels if a winning combination is formed. Each time the reels spin and you win, the Walking Wild icon remains on the grid, but moves towards the left. The said symbol continues to do so until it reaches the leftmost reel, upon which it will disappear during the next spin. This feature is exclusive to the Free Spins mode, and it is triggered whenever a High paying icon appears on the reels.
Finally, we have Dr.Franken's jackpot mechanic. It is pretty straightforward, at least three 777 Jackpot symbols must make an appearance in the main game for a player to win a jackpot. The first jackpot is dubbed Mini, where a user receives their bet x7. A Minor jackpot, on the other hand, will win a gambling enthusiast their bet x77. Last but certainly not least, anyone who wins the Major jackpot can enjoy a payout of 777x. Players should keep in mind, however, that jackpot winnings will not exceed 50% of the jackpot reserve.
Our Verdict
At the end of the day, Dr.Franken's Lab 777Jackpot is a slot that has quite a lot to offer to gambling mavens. Its Random Events feature is quite fun to observe, and it turns free spins into an even more exciting gaming mechanic. It is also easy to see that the slot looks and sounds fantastic, which is another plus. All in all, players who are fond of wacky and fun slots should definitely give Dr.Franken's Lab 777Jackpot a try.